A few weekends ago was Nottinghamshire Pride.  I had such a brilliant and action packed weekend and I wanted to write about it here.  It was my first one as a resident of Nottingham. The fact I could go back to my home comforts for a bit of a rest, to recharge myself and my phone battery and have a shower was greatly appreciately.
Have a listen:
Here are some photos and videos interspersed with a bit of a write up. Or maybe rather it's a write up interspersed with some photos and videos.  Either way, I'll able to look back and recall the memories of the weekend.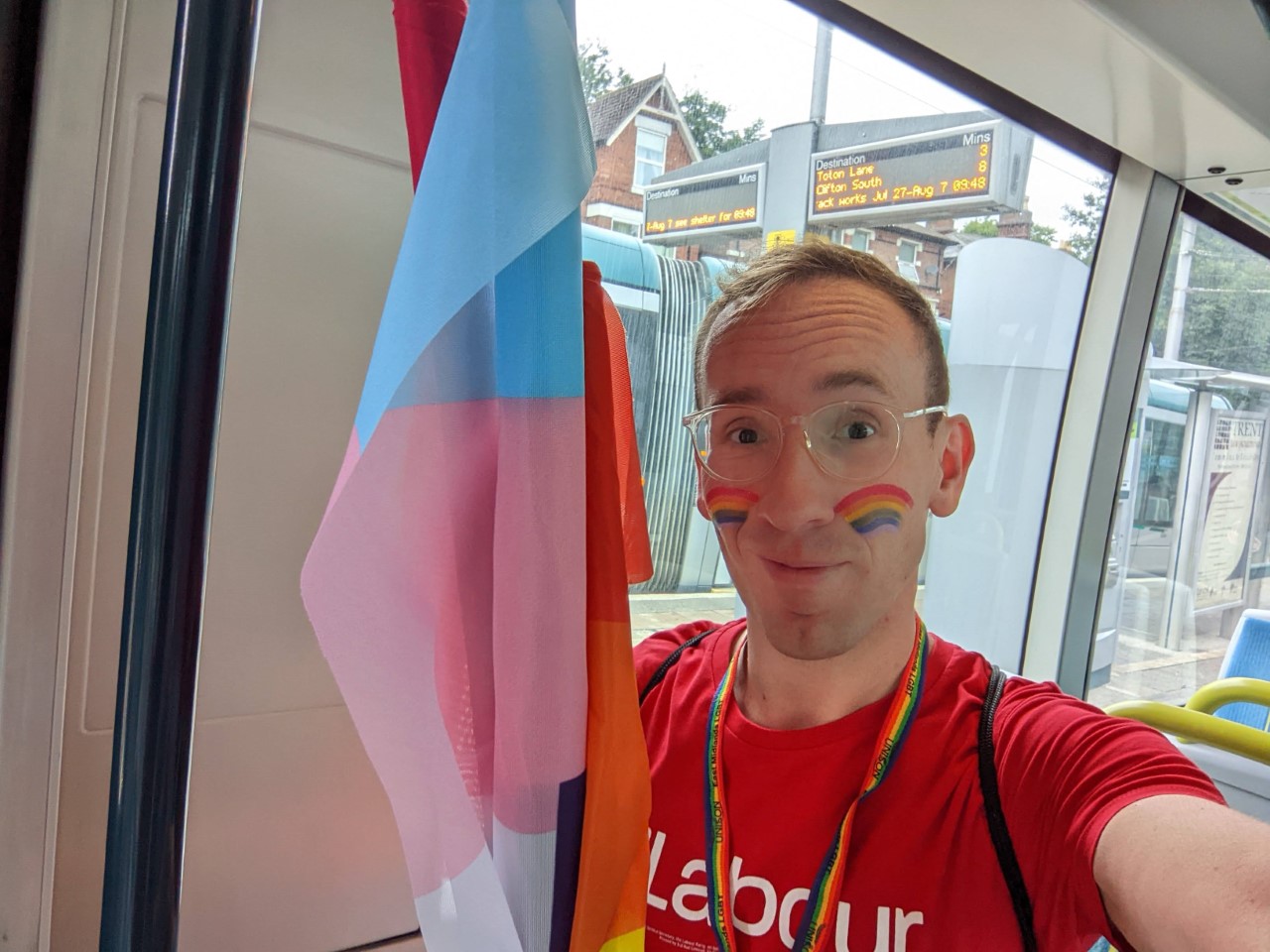 I left early, got the tram and walked the short distance from Market Square to Lister Gate. Arriving dead on 10am, I was shocked to see so many people were already waiting for the march to begin. I had said to the Labour branches and UNISON crew to be there from 10.15am and that to find me I would be wearing rainbow leggings and waving the UNISON flags. Despite this, some still had difficulty locating me because of the big crowds.  Eventually after some elaborate flag waving, we all met up, and after waiting for seemingly ever, the march begin.
For me, a photo is everything. The common parable "If a tree falls in a forest and no one is around to hear it, does it make a sound?" can be updated to "If there's no photo or video evidence, did it really happen?". I am quite into photography and I love capturing the moment. With that in mind, I made it my objective to get some great shots and seeked the best angle.  This included me climbing up some scaffolding – and immediately the Health and Safety police told me to get down.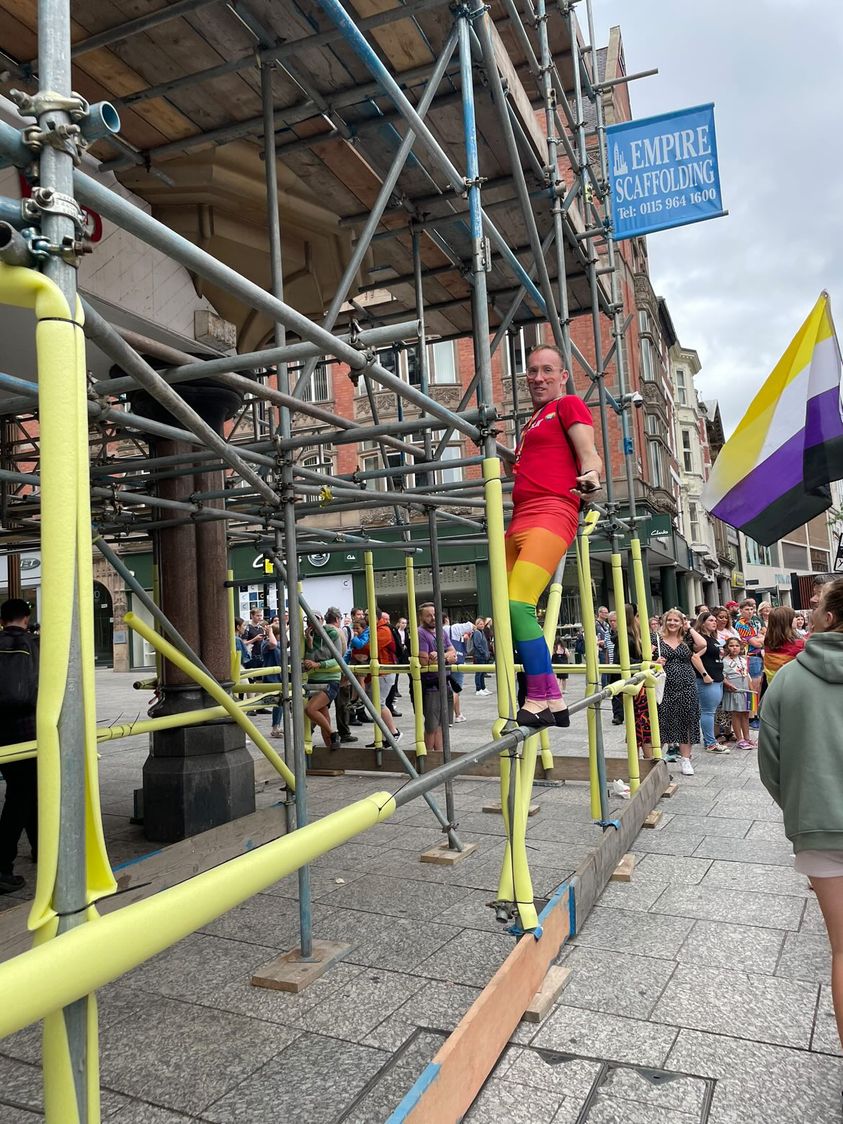 So here are a selection of photos:
As I was being told to get down from the scaffolding, I lowered myself, and then stood back up and lowered myself again to give the impression that I was about to get down but in doing some was to get a few more sneaky photos. I didn't realise until I checked out everyone else's reaction that this looked a lot like pole dancing.
The parade ended in Hockley where I decided to firstly take a tactical rest and recharge of my phone battery at my place of work. I work a few minutes walk from the end point so after a slightly longer delayed shimmy through the crowds, I left the flags there and rested. I then messaged Stefan and we had lunch together which unintentionally meant we dodged the short rain spell. Onwards, we went to listen to some happenings on the stage and then went to the Fox and Grapes pub.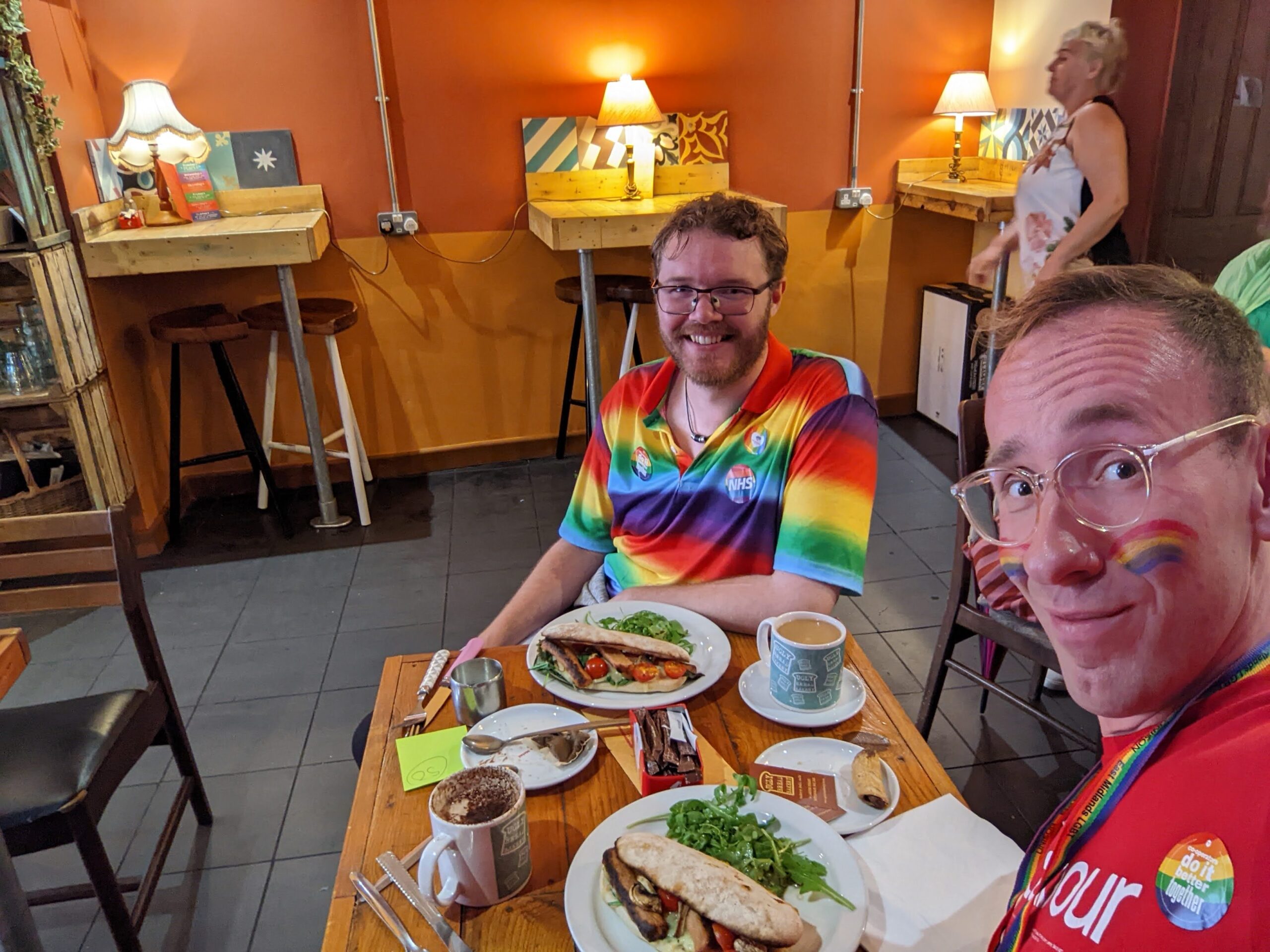 After departing, I collected the aforementioned flags, and got the tram back to mine. I recharged – both my phone and myself, had a shower and was out of the house in perhaps the quickest turnaround time that has ever happened.  I got an e-scooter from Hyson Green to the Robin Hood in Sherwood in record time. I met up with Shaoib and Alice, who the night before went on a Critical Mass cycle with me.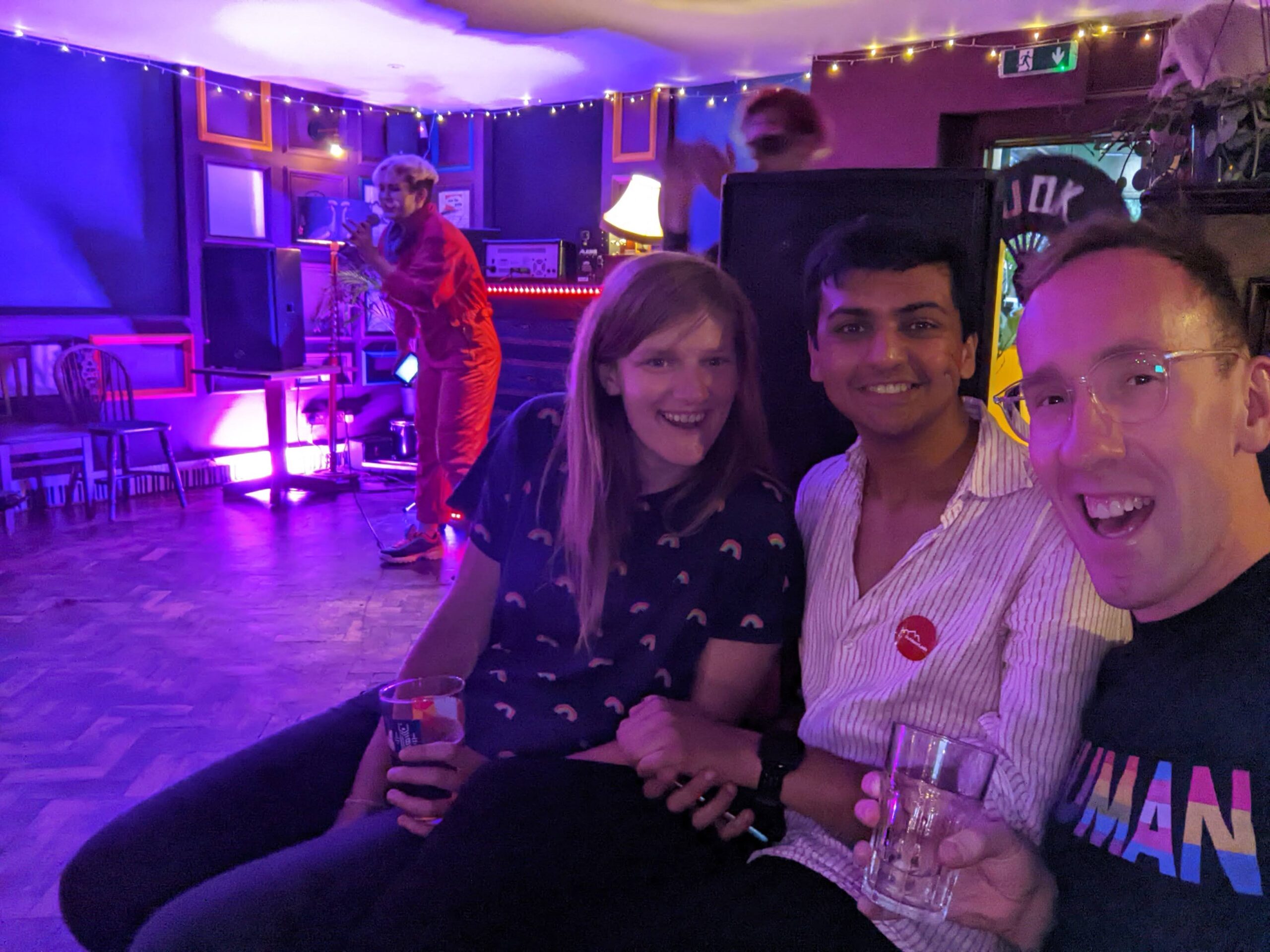 The reason I knew about there being an event in the Robin Hood pub was because my friend, Lucas, was the compere of the drag cabaret show.  Following this was a competition called 'drag up your man'.  I must admit the alcohol flowed a bit too freely for me to fully recall that game.  However, the first half he hosted was wonderful. The atmosphere in the pub was so happy.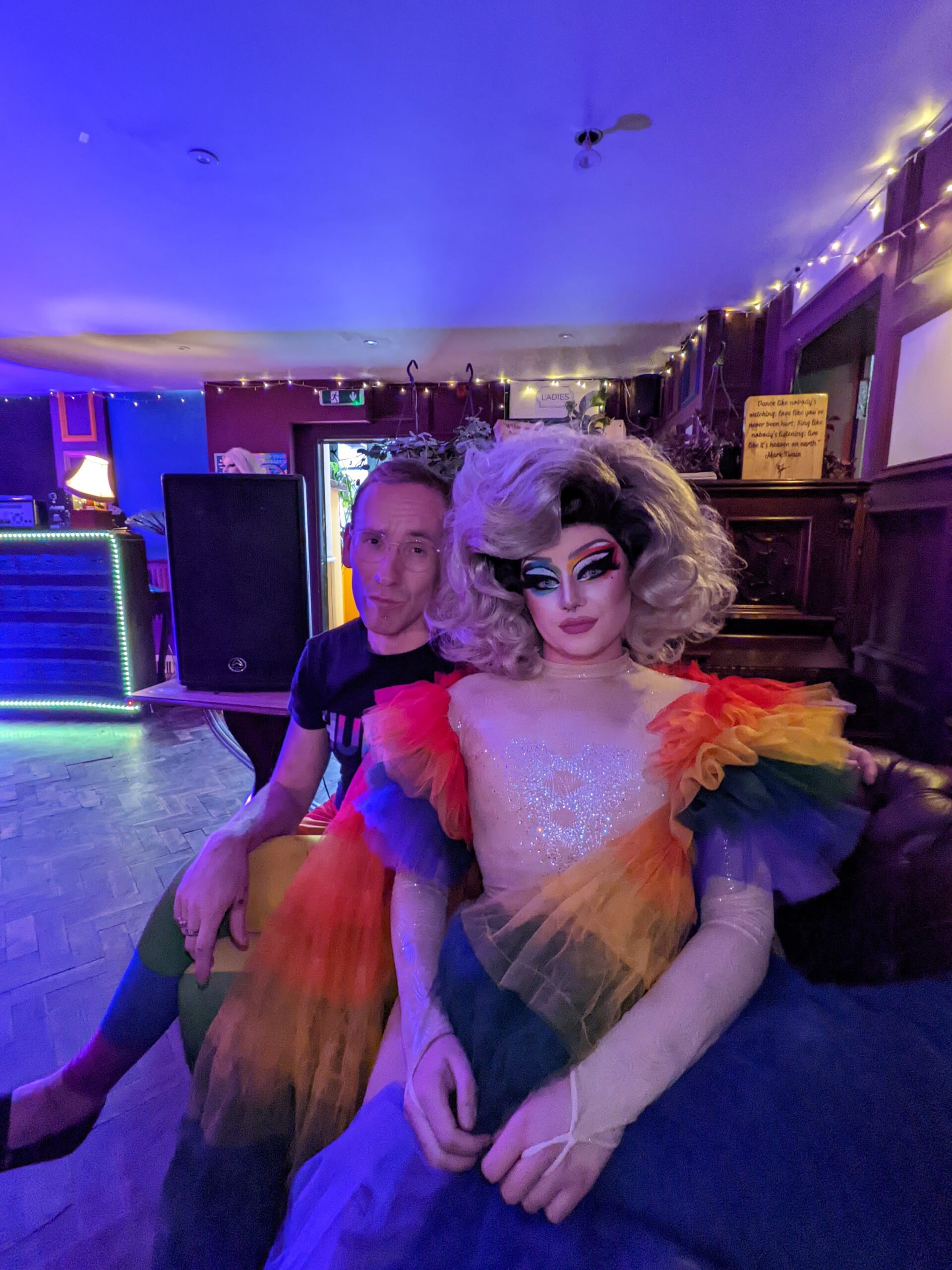 At some point before 10pm we got an Uber to The New Foresters.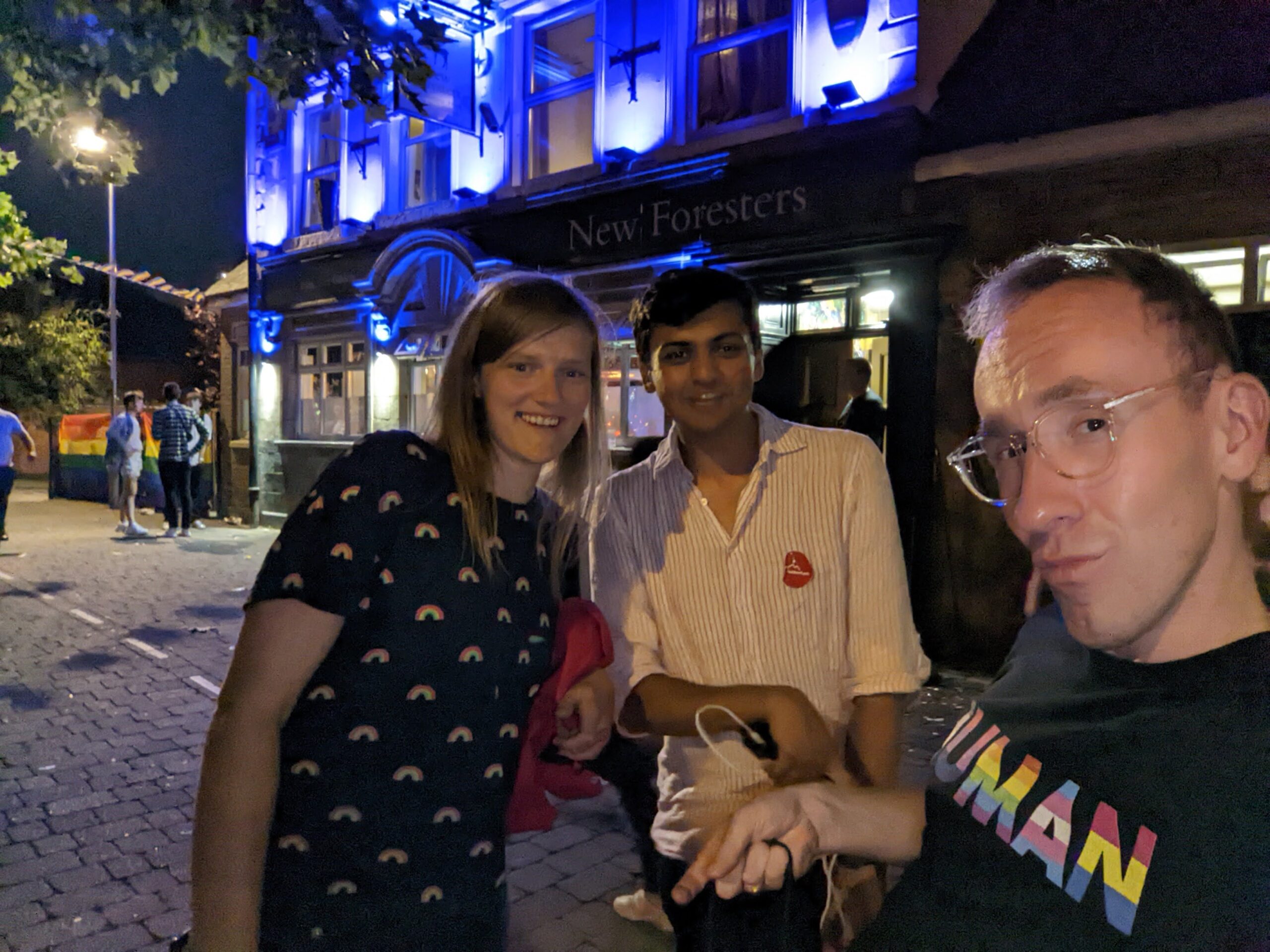 In here, it was heaving.   I made a beeline for two people I spotted – one I had met before in this very pub and the other I had typed to on Grindr.  With Alice and Shaoib, we chatted to our newly acquired friends.  After a while on the dance floor, one decided to go elsewhere.  I had to quickly say my goodbyes.  I reluctantly followed in the hope of something developing.  Eight pounds it cost me to get into NG1 to be then told by the instigator that the atmosphere was lacking and then moments later we were en route back to The New Foresters.  Just before our destination was reached, he spotted some others walking towards us and very nearly was lured in their direction.  However, he was convinced to stay on track – somehow.  A sudden text reminded him his best friend was in a club to which we found ourselves ten minutes later.  I ordered a drink, lost them, found them and then went to the loo and when I returned they were gone.  They claimed not to have gone off together – of which I would not have minded but leaving me on my own, just as the heavens opened made me mind.  I was soaked through to the bone and cold, and I e-scootered home quite miffed off.
However, a new day came appeared in the form of Sunday .  It was bright, sunny and I had a lovely morning.  I was very relaxed and chilled out.  I even put a wash in.  A few weeks before I had found out about some events at Nottingham Castle on the Sunday afternoon and evening.  I messaged Shaoib about meeting at 3pm and he was, thankfully, up for it!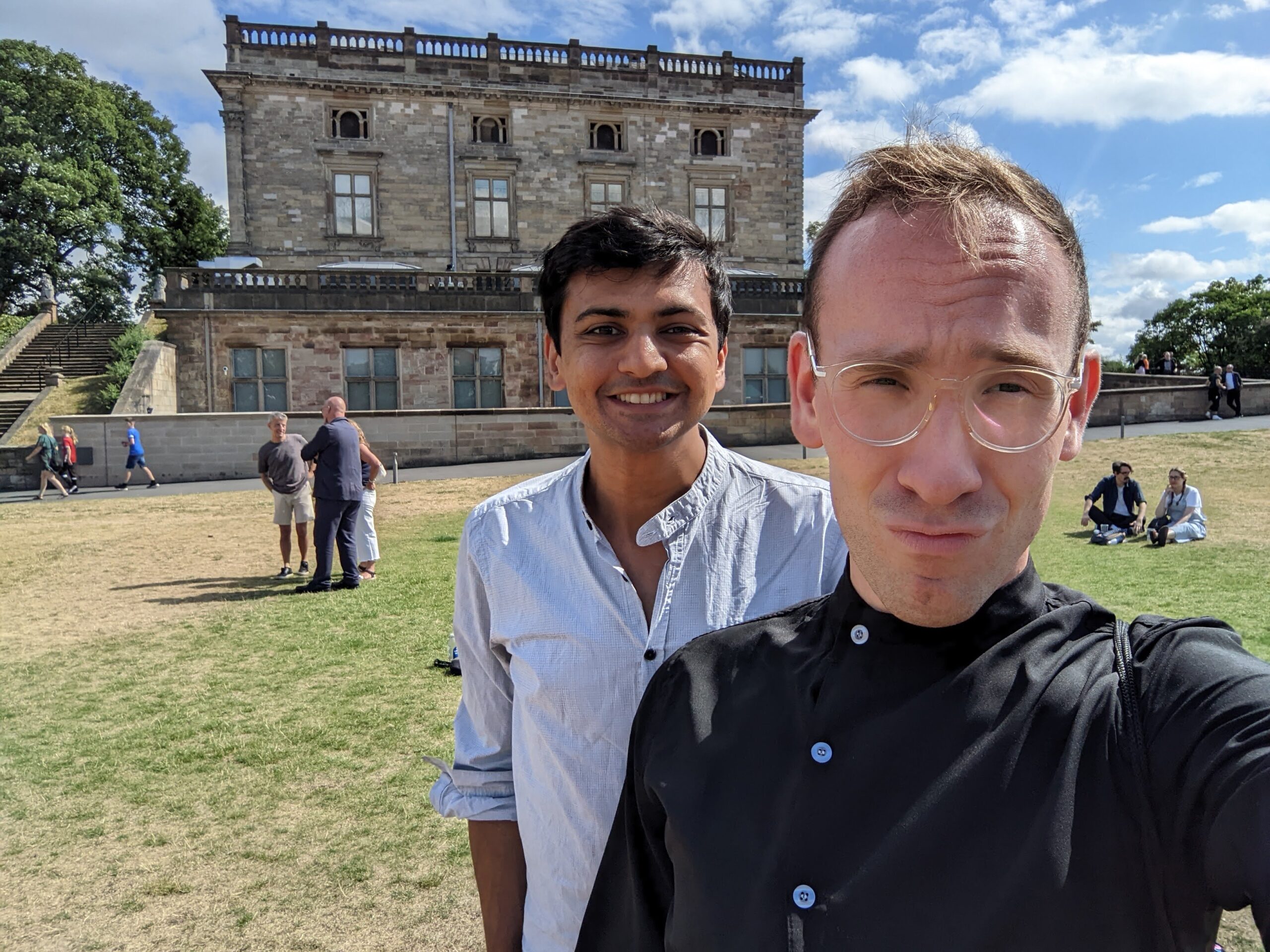 Whilst Lucas was telling me about his event the night before, he also mentioned about him competing in a drag competition at the castle.  Of course I went along to support him.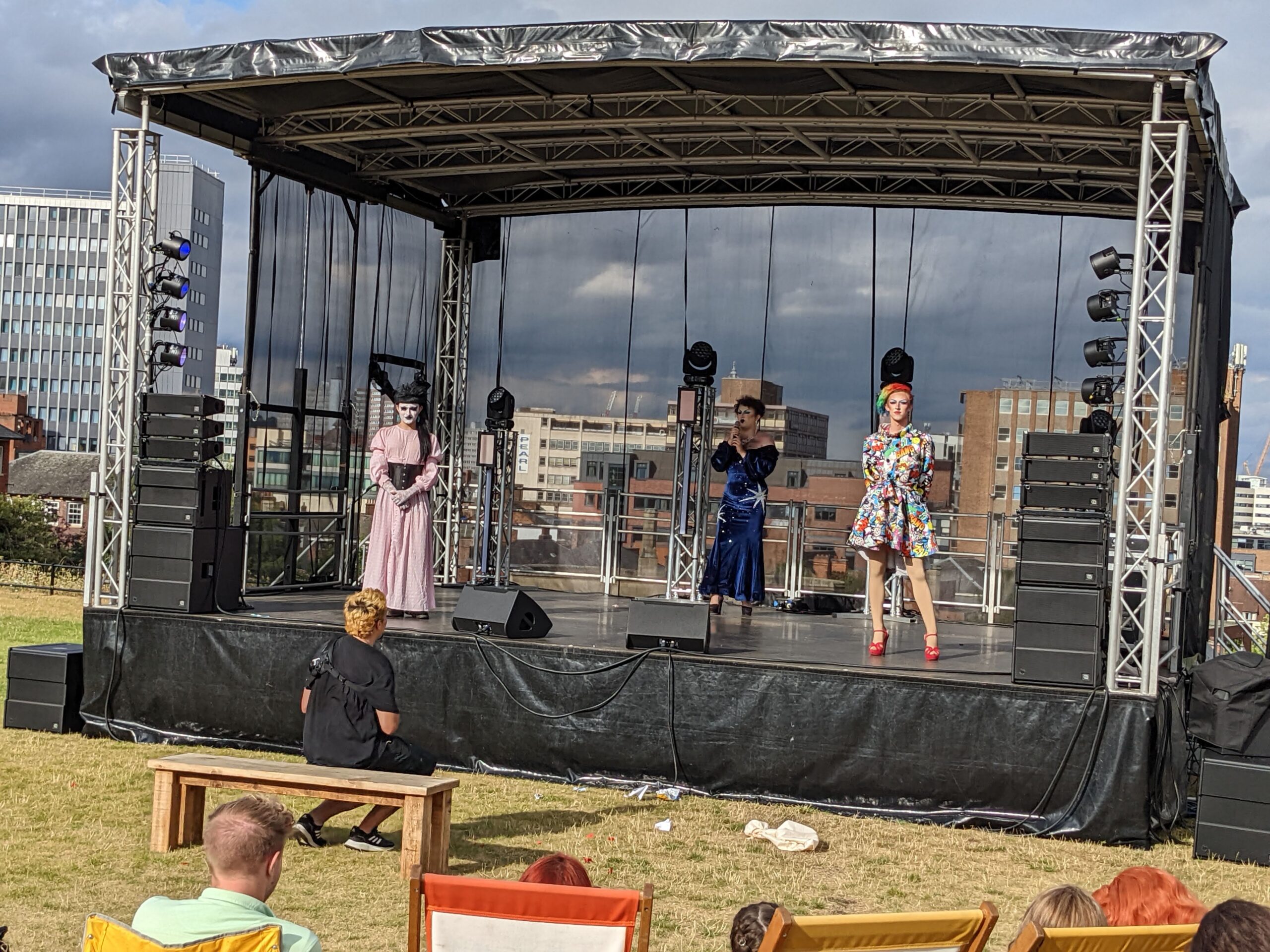 And best of all Lucas, or as she is better known, Ms Classpergers won the drag competition!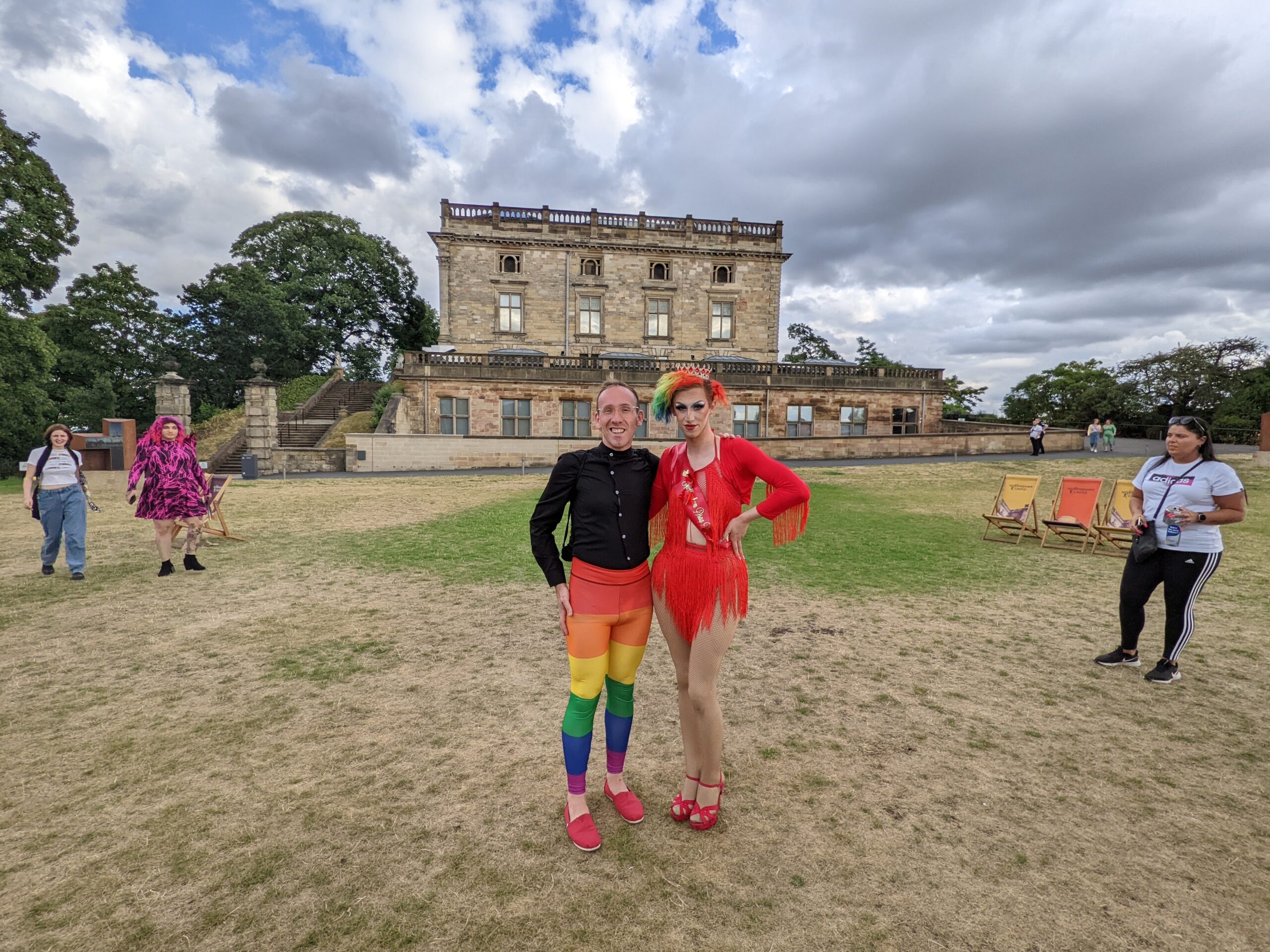 A much needed Wetherspoons was consumed before the evening entertainment began.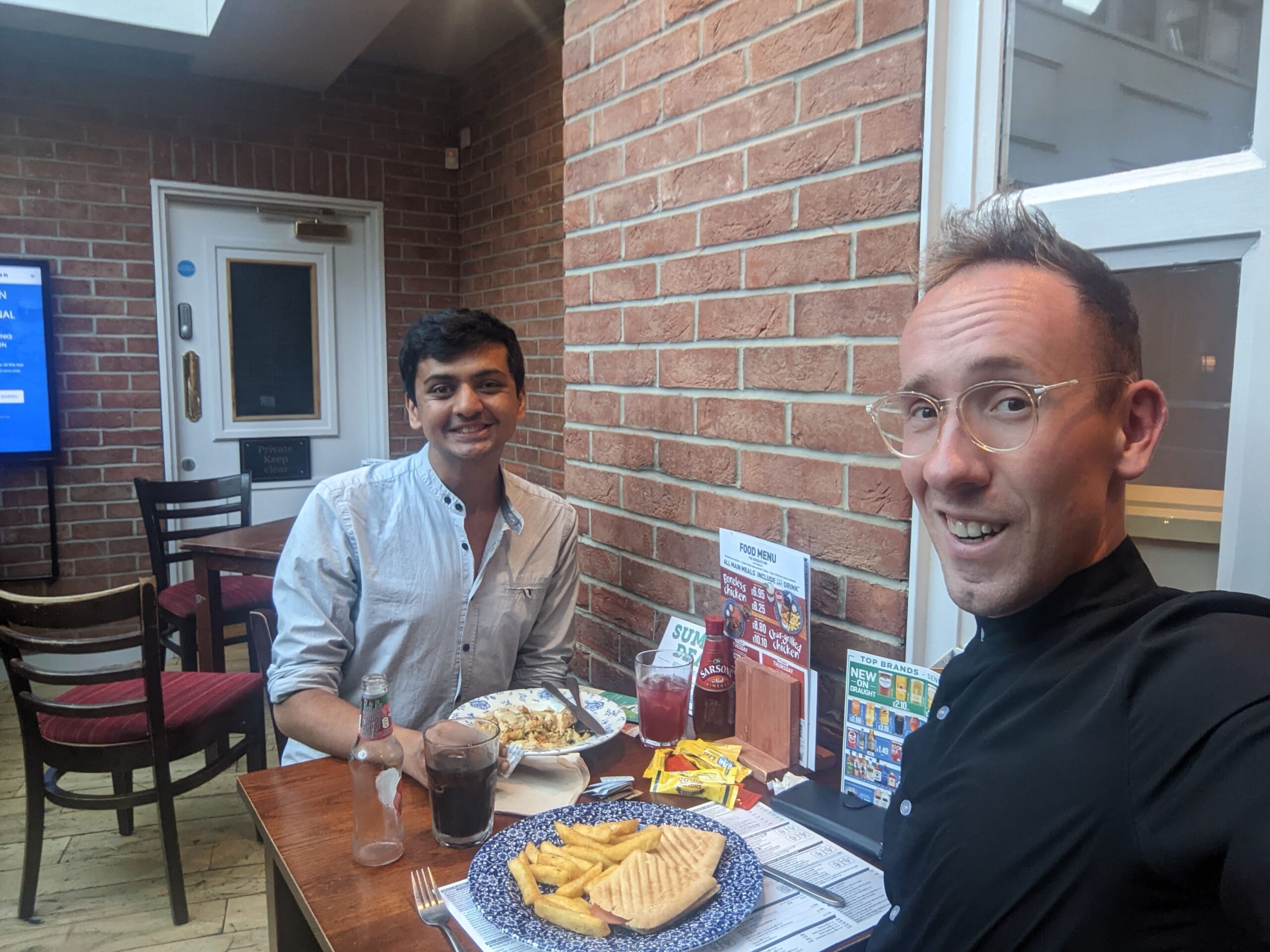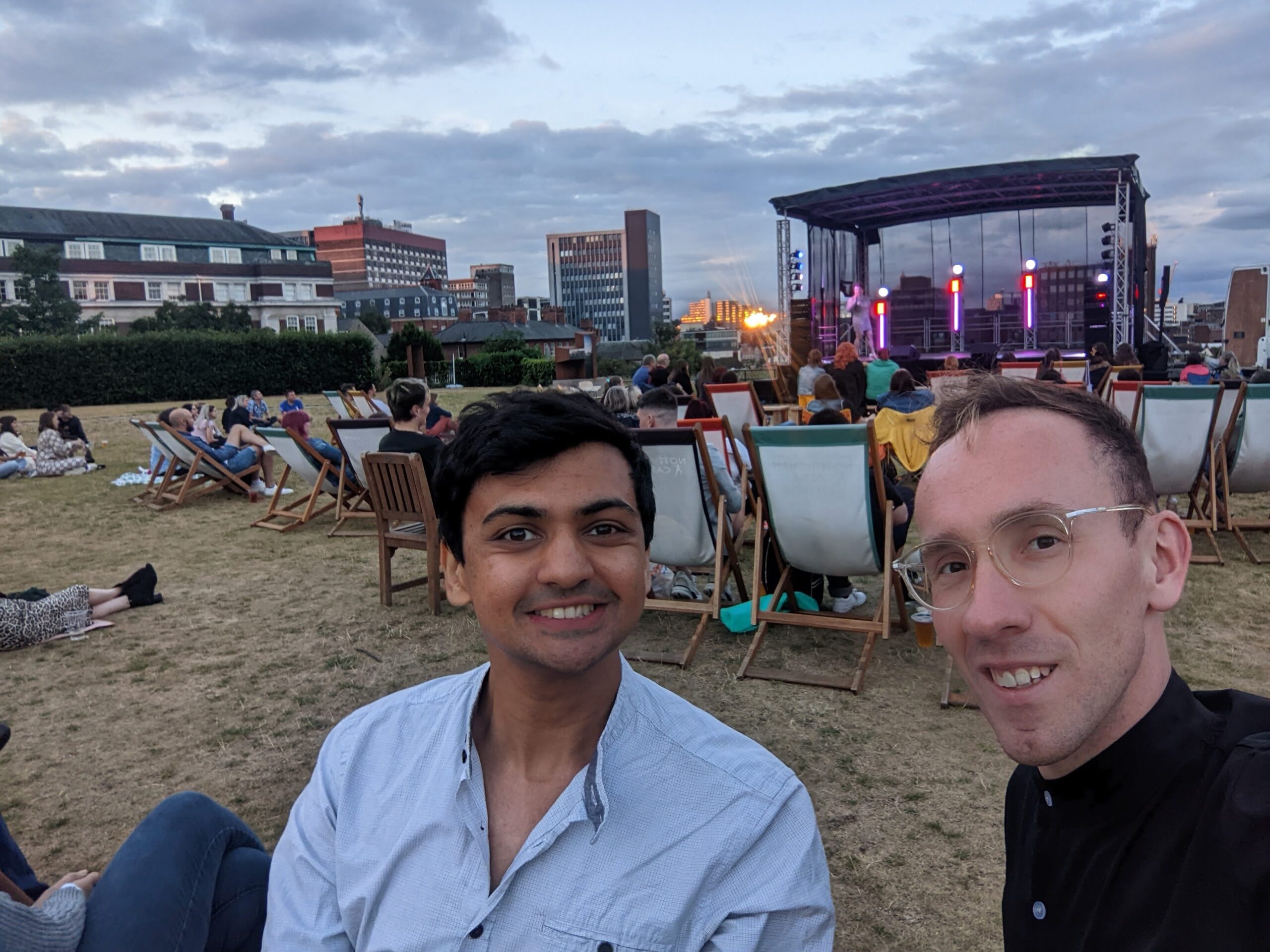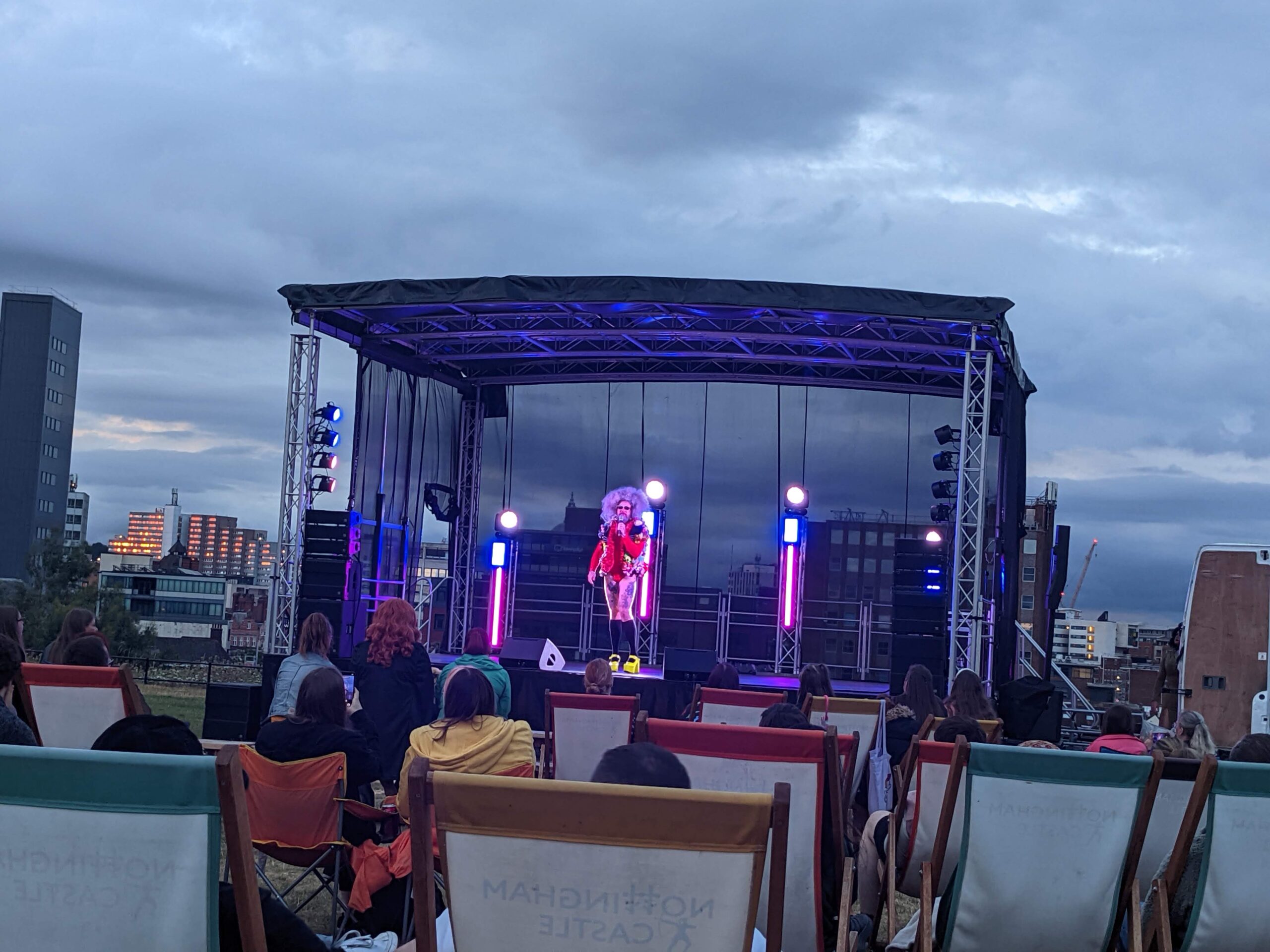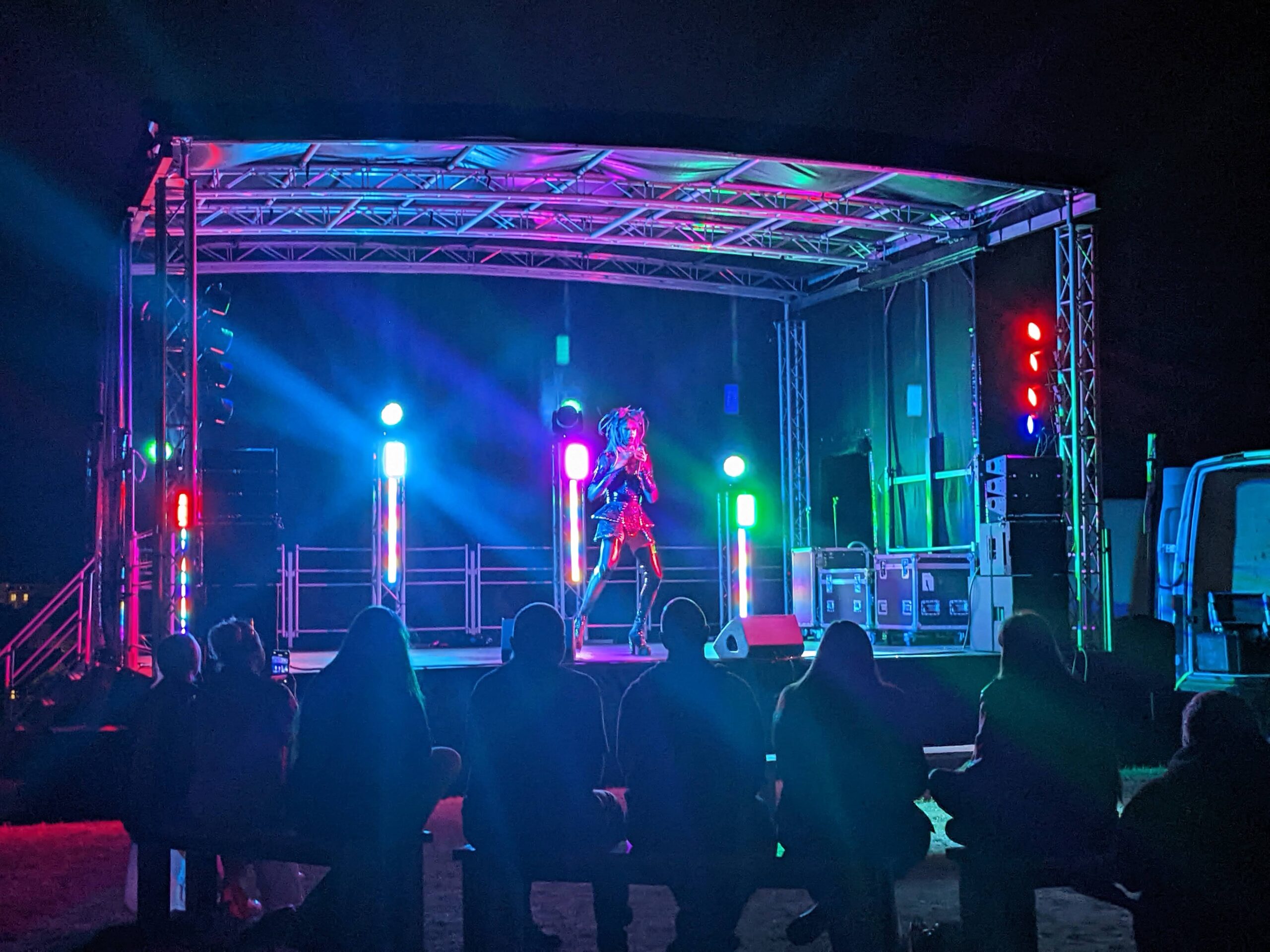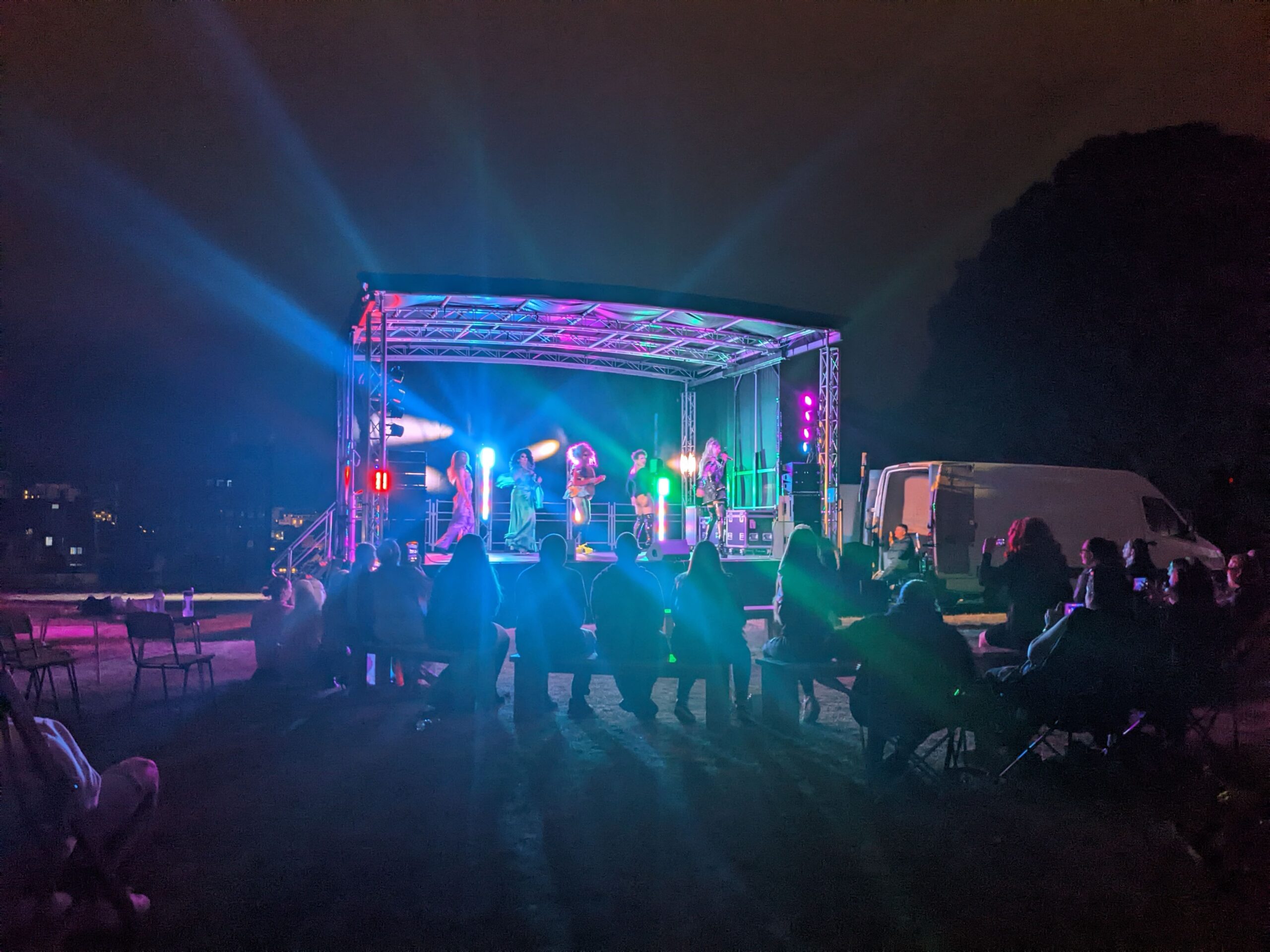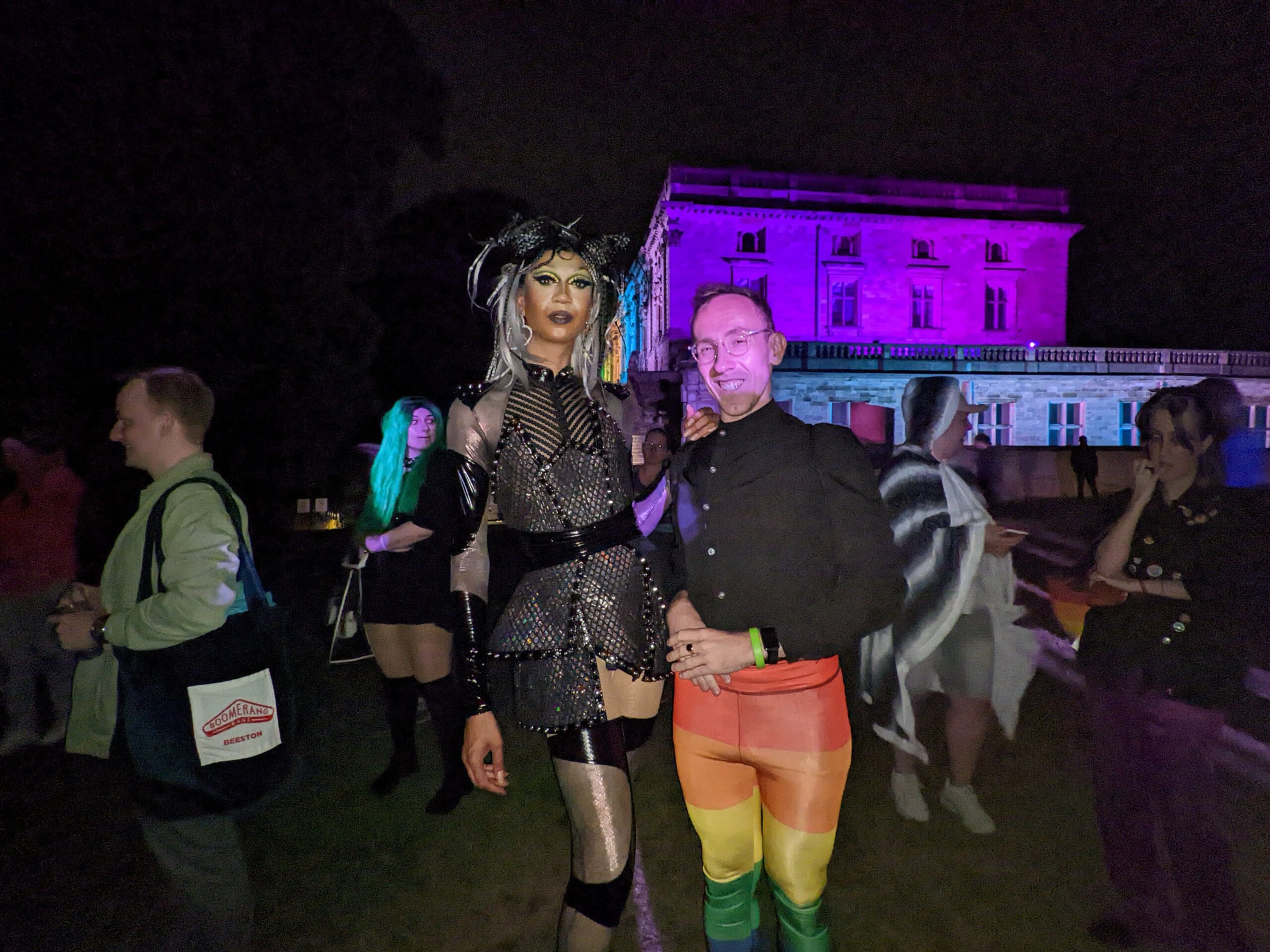 I had a photo with Tia Kofi, also known as Lawrence, who I actually met when I was involved in the University of Nottingham television station.
During the afternoon the sun shone brightly.  It was a well organised event.  It was loud and colourful.  I had such a great time.  My only criticism is that it should have been better attended.  Maybe it needed more advertising or maybe the potential attendees were all nursing hangovers from the night before?
There was nearly a slight blip on the weekend when some kids threw some glass from the top of a multistorey car park and called out 'gay bastard'.  It should not have happened.
Other than that, the weekend was fabulous.
Speak soon,
Samuel