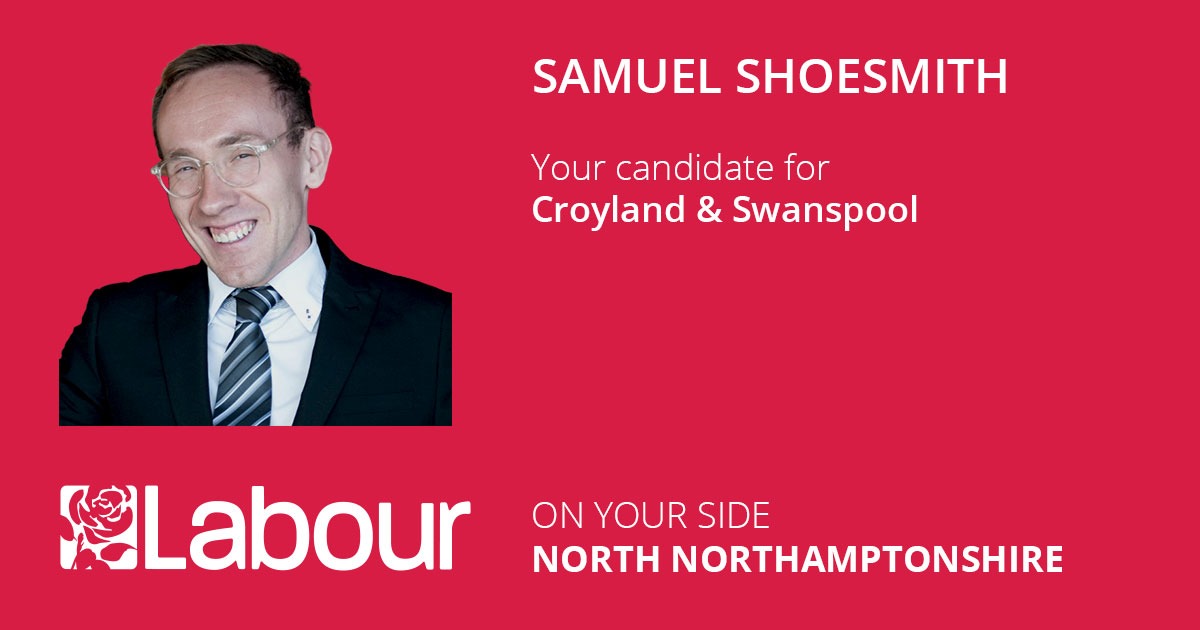 Hello!
I can now officially call myself a Labour candidate in the upcoming Local Elections for the new unitary authority!  I was a prospective candidate but now my paperwork is all handed in and the proper campaigning shall begin, as candidate Samuel Shoesmith!
I am standing to become a councillor for the Wellingborough's Croyland and Swanspool division on the North Northamptonshire Council.
I shall also be standing as a candidate too for Croyland area for the new Wellingborough Town Council.
I hope that I can contribute to making Wellingborough and the entirety of North Northants a better place.  I care so about my local area and individually over the years have reported hundreds of issues.  These have ranged from street lights out, to potholes and damaged signs and so much more.  A few examples can be found by clicking on this link.   I have also campaigned too on many, many issues too.  I have discovered how difficult it is on my own to call for changes for the betterment of all.  Becoming a councillor would allow me to build the connections and the rapport with colleague councillors and officers alike with the aim of making our local area a better place.
The three candidates for Croyland & Swanspool division are myself, Valerie Anslow and Andrew Scarborough.  Both of whom I would love to work alongside. All three of us actually live within the boundaries of this division.  Our collaborative effort can seek to make Wellingborough and North Northants a better place to live and work in.
The countdown to May 6th now officially begins!