I meant to finish and publish this piece soon after the 2nd October.  It is now November 10th.  Ouch.  I kept putting off finishing it and eventually it fell down my to-do list and almost fell off.  Ohhhh.   I thought to myself as I began composing this post over a month ago, that you (and I know you exist) will be tired of reading yet another blog post about my visits to London.  But I wanted to write about them and importantly document the coincidences that arose.  And besides, I went up north slightly too.
I also remembered that this is my personal space to write what I so choose.  So ouch.  Heheh.
But in seriousness, to me, this blog has currently moved to become more akin to a social diary. The reader's sake is important, as it is public, but for my sake, this acts as a diary.  I have an odd memory.  A memory which crisscrosses and moves back and forth, which can recall in great detail particular events from far ago but one which cannot remember more recent events which I sometimes should be able to.  I am terrible with names. I have a memory which cannot in chronological order, recall what I was up a matter of weeks ago.  Strange.
Cast your minds back.  On Friday 17th September I got the train down to London. My intention was to leave a few hours before I did and have the morning to explore some of the buildings on OpenHouse. But I slept in. Oh dear. I cycled to Wellingborough Train Station, watched an episode of Queer As Folk and arrived in St Pancras.
I meandered for a little while and decided to head to an OpenHouse which I knew would be popular. The top of the Gherkin is opened for that weekend. I got down there to find no queue.  I realised that it had closed an hour before I even arrived. OpenHouse occurs only once a year. Why can the trustees of this building not ensure that for only two days it is open to the public for the entirety of both days?
I stood in awe at the dildo shaped building but soon headed to the nearest building the OpenHouse app told me was still open. Guildhall is the ceremonial and administrative centre of the City of London Corporation. It was a pretty building. Very grand. It sparked my interest in finding out more about the dichotomy of London and the City of London. As I perused the statues, I noticed a guy across the Great Hall who looked a lot like James who I knew from my university days. I squinted and walked towards him. It was him. Coincidence number 1.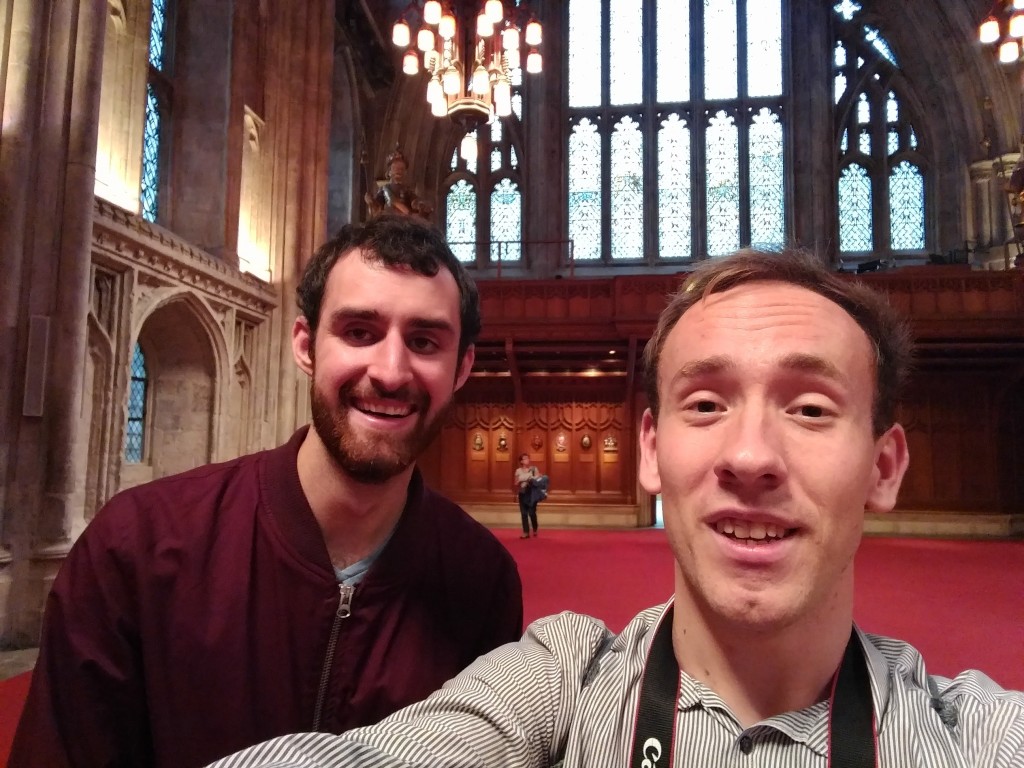 I then headed to have dinner. It was cute.
I texted my friend Tom and he invited me over.  I took the tube to Stratford, a quick stop and then off to Shoreditch.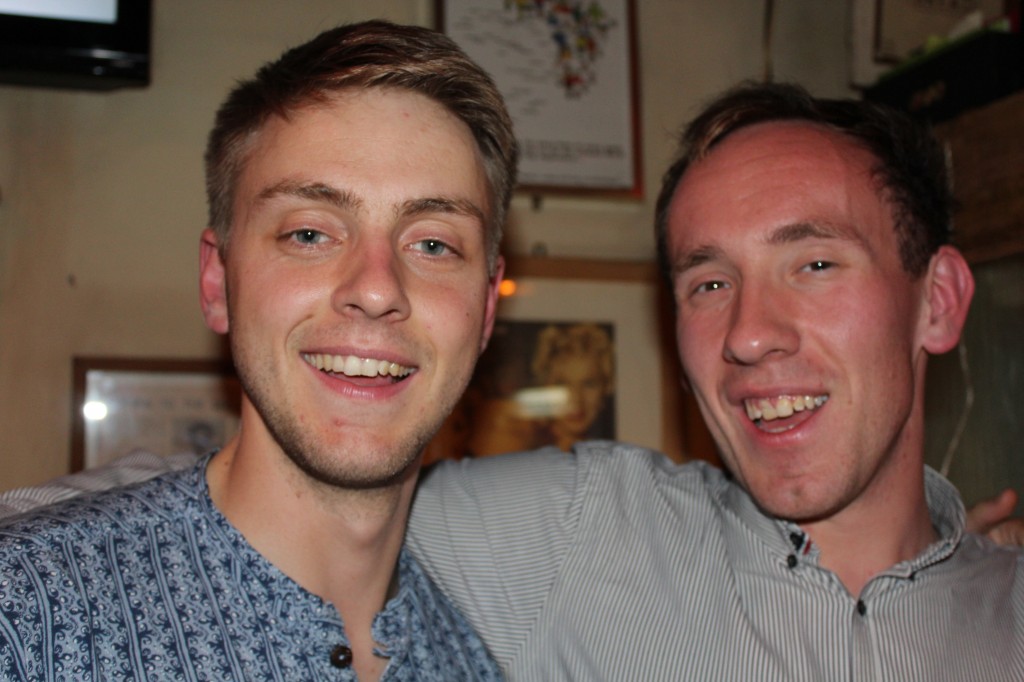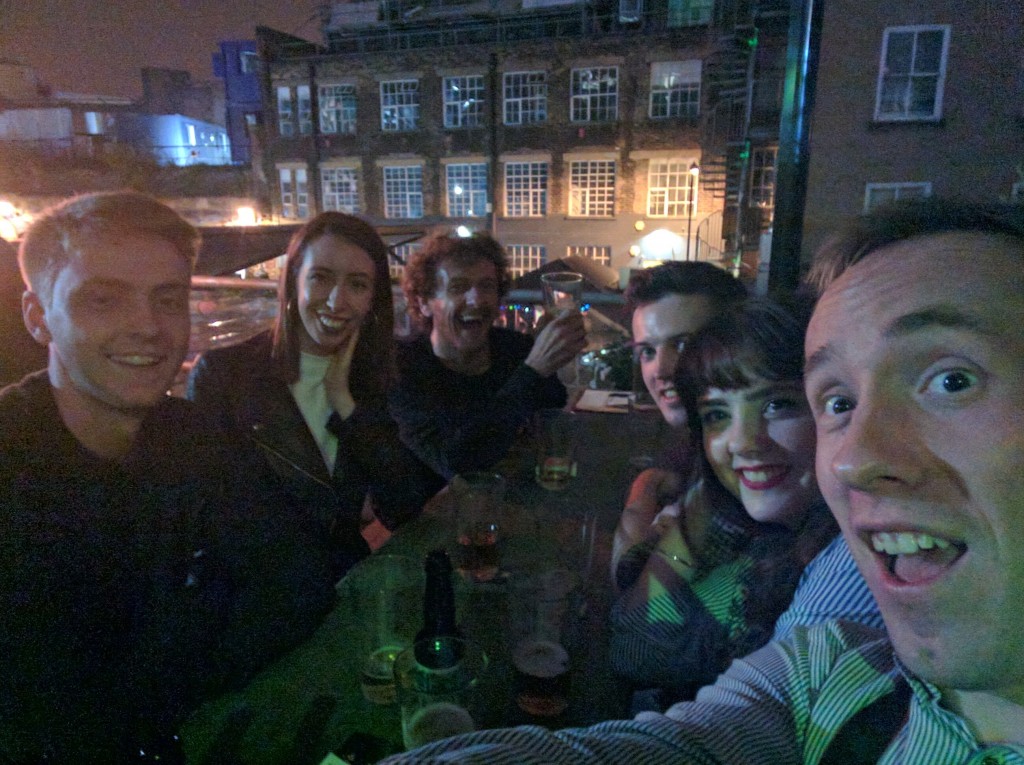 I met Jasmyn Banks who played Alice Branning in EastEnders and we got a cute photo.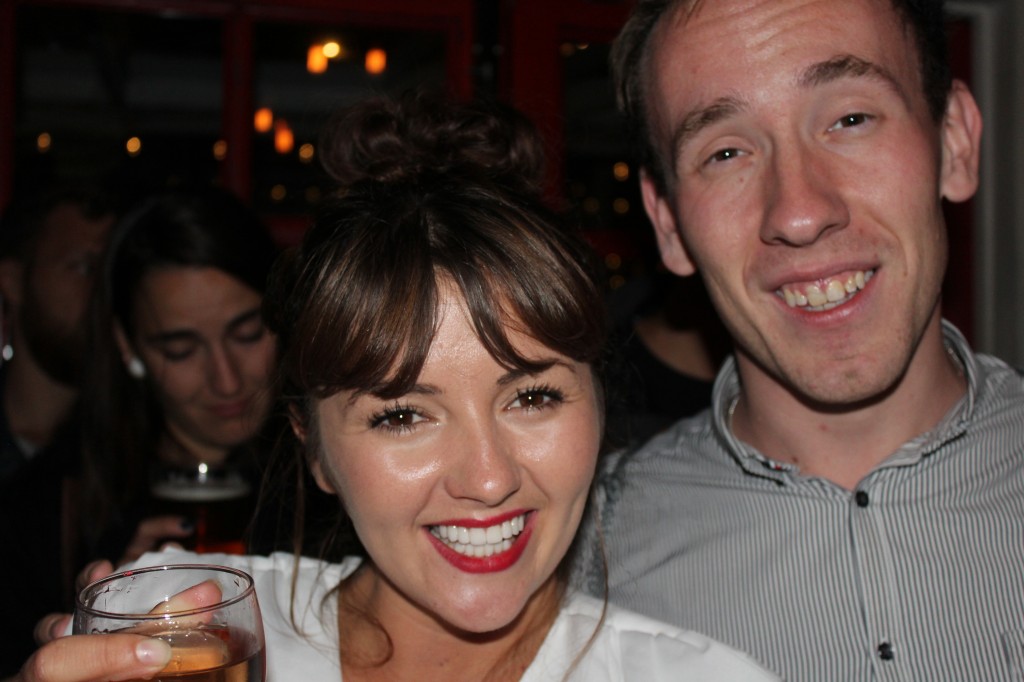 My original plan was to nip away, run to the tube, back to St. Pancras and make the 00:15 train back. "That's too early," I thought to myself.  I asked Tom if I could kip on his floor to which he wonderfully said yes and the night was made. An ale and many Malibu and cokes later, I arrived back at 4am ish. I had a lovely time.
I awoke early at Tom's and soon left.. Round 2. I wanted to get up the Gherkin. I tried. I queued for a few hundred minutes. Plenty of time for watching telly but standing up watching telly is, well, not sitting down watching telly. Yes. Just as the entrance was in sight, the security said it was closed for the day. So close, yet so far.
I cycled from there to Clapham Common. Giles had texted me the night before to say he was compering on Rough Rudder, an easier and better (probably) take on Tough Mudder. It was so nice meeting up with him and having a quick catch up. It has been too long!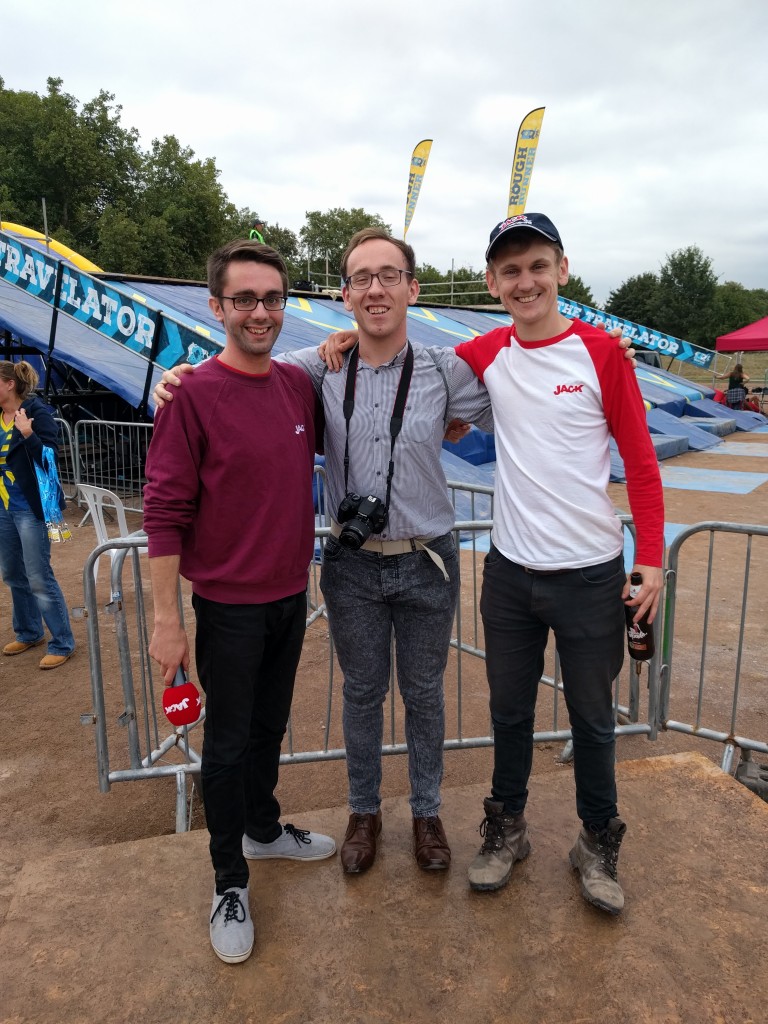 I got the tube back to St Pancras. The East Midlands train was an old one. Despite the initial dispair of not being able to plug in my phone – drained from those episodes of Queer as Folk, I soon became content. The slow moving off of the old train and the ability to open the windows and stick my head out swayed me.
—
The following weekend I went up to surprise my friend Seb and his boyfriend in Mansfield.  I got the train up to Nottingham and then cycled up.  I don't want to blow my own trumpet but I am about to blow my own trumpet.  I had laid a few comments here and there to Seb which made any idea of a visit unimaginable.  I knocked on the door and my visit was totally unexpected.  I'm very good at that.  See my "See people' vlog from 4 years ago.  Seb and I went out to have dinner.  It was lovely.
—
And then the following weekend I headed to London again.  On the 1st October, I got a late train down.  As I left St. Pancras I crossed the street and bumped into Tom (aforementioned Tom) and his family.  Such a small world?!  Coincidence number 2. I then met Giles down near London Bridge where we were to stay.  It was a Mercure Hotel.  Lovely.
We got ready and left.  It took a lot of convincing but I managed to get Giles to cycle from the hotel to the Queen of Hoxton.  We were close.  I could feel it but I didn't know for certain where we had to go.  I had the SatNav in my ears but gesticulated to Giles that we needed to stop.  I pulled up and bumped into my best friend's ex.  I was stunned – albeit for a few seconds and said hello.  My obsession for documenting the moment for reasons which can be seen above, led me to immediately ask for a photo together to which he said 'no' and scurried off.  A little frosty perhaps.  Or maybe a normal person's reaction.  Coincidence number 3.  The coincidence was made even more poignant by the fact that the June before last I saw him in Soho in an incredibly packed crowd.
Giles and I had some food and then we went to the Queen of Hoxton.  After a short wait, some URN alumni started joining us.  It was great to see their faces again.  I would have spoken at length with them but the combination of being incredibly drunk as well as the really loud music meant there was a lot of nodding.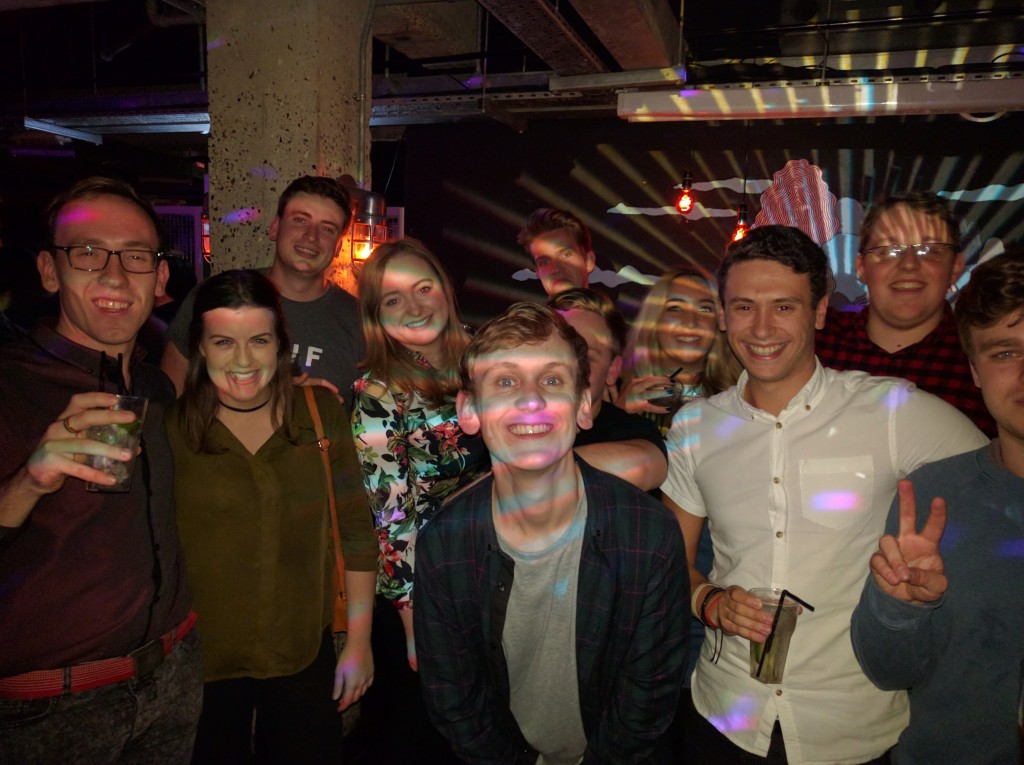 As I looked around I noticed sitting close to me was a recognisable face.  It was Louise.  She was there with her friend, and completely unrelated to URN.  I knew her from university but from the halls I lived in in first year.  What a coincidence!?  Number 4!  Made even more wonderful by the fact I had bumped into her back in January also in Shoreditch.
We left, as had many others, a while before I expected.  We got a cheeky KFC (cough – doesn't work).  Giles hailed a cab and we returned to our hotel.
The next day we arose and headed down to breakfast.  Very nice!
We then left and met up with Jemima.
It has become an annual event in which the three of us meet up.  It was lovely seeing her and being in the company too of Giles.  We chatted over coffee in a lovely, little coffee shop.
I then cycled back to St. Pancras and returned to Wellingborough.
A few consecutive weekends of trips.  And many coincidences!
Nnnnniiiccceeeee!
Samuel