[This blog may contain nuts]
Diary,
I feel that if I ever miss one of these naked bicycle rides, the day will pass, I will see the photos and blogs from others, and feel a sense of dread that I have missed out.  I really needed to catch up with the admin of life, you know, have a weekend of relaxing and sorting, but after a short dither, I decided to do what I have enjoyed many times before and cycle with no clothes on!
On Friday, as soon as I finished work, I cycled home, had a rest, got the bus and then train down to London.  As it pulled into St. Pancras, seeing the familar sights contrasted with the ever changing building works, plus the plethora of people made me realise how much I missed visiting this glorious city.
I hired a Santander Cycle and slowly meandered the streets of London whilst listening to a Stacey Dooley podcast.  I had texted my friend Tom a few days before and he had kindly offered to put me up for the night.  I messaged and he was still in a pub in Victoria so I began to cycle in that direction.  I am not sure how but I managed to almost entirely loop around but in 20 minutes I had made little progress.  After emergency chips at McDonalds to satisfy my hunger, I got the tube to Victoria and met Tom and his friends, Tom and Luke.  The pub was close to closing so we all had a brief catch up and walked to the station.  The panademic has meant the last time I saw them was heading towards 2 and a bit years.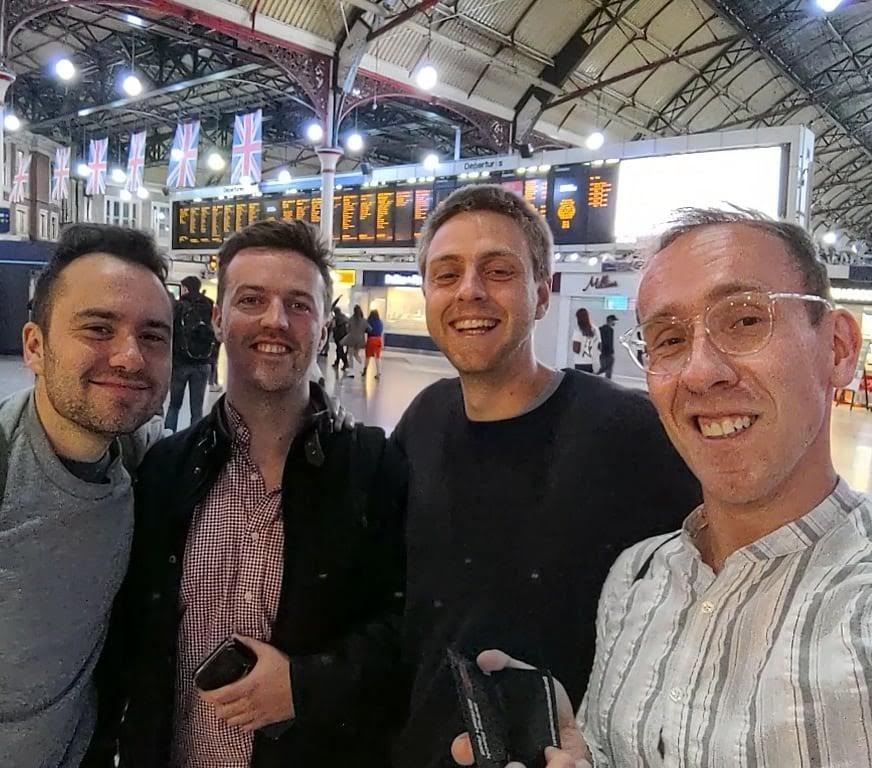 It was so lovely seeing Tom.  He is a friend who I can not see for ages and ages and it feels like we saw each other just last week.  Briefly after the pub with a cup of tea in hand, and the next morning over a Wetherspoons breakfast, we chatted and chatted and caught up about the trials and tribulations of life.  Lots has changed with this pandemic gap.
I got ready and left his flat in Clapham Junction and got the train to Waterloo and briefly walked to collect my hire bicycle from the London Bicycle Tour Company.  If you are ever thinking about hiring one for this bicycle ride, or simply for the day, I do strongly recommend.  I go for the 'women's bicycle' as it is easy to dismount when often start-stopping and it has a handy rack at the back where I bungee cord my clothes to.
As I went towards the shop, just leaving I saw a bicycle coming towards me with a green seat cover.  They are given out to everyone for hygiene reasons.  I said, 'hi' and wondered where he would be starting.  It was his first ride and he thought Tower Hill.  I introduced myself, as did he, Amar.  He hadn't road cycled in London nor been to London in 15 odd years and I offered to cycle with him.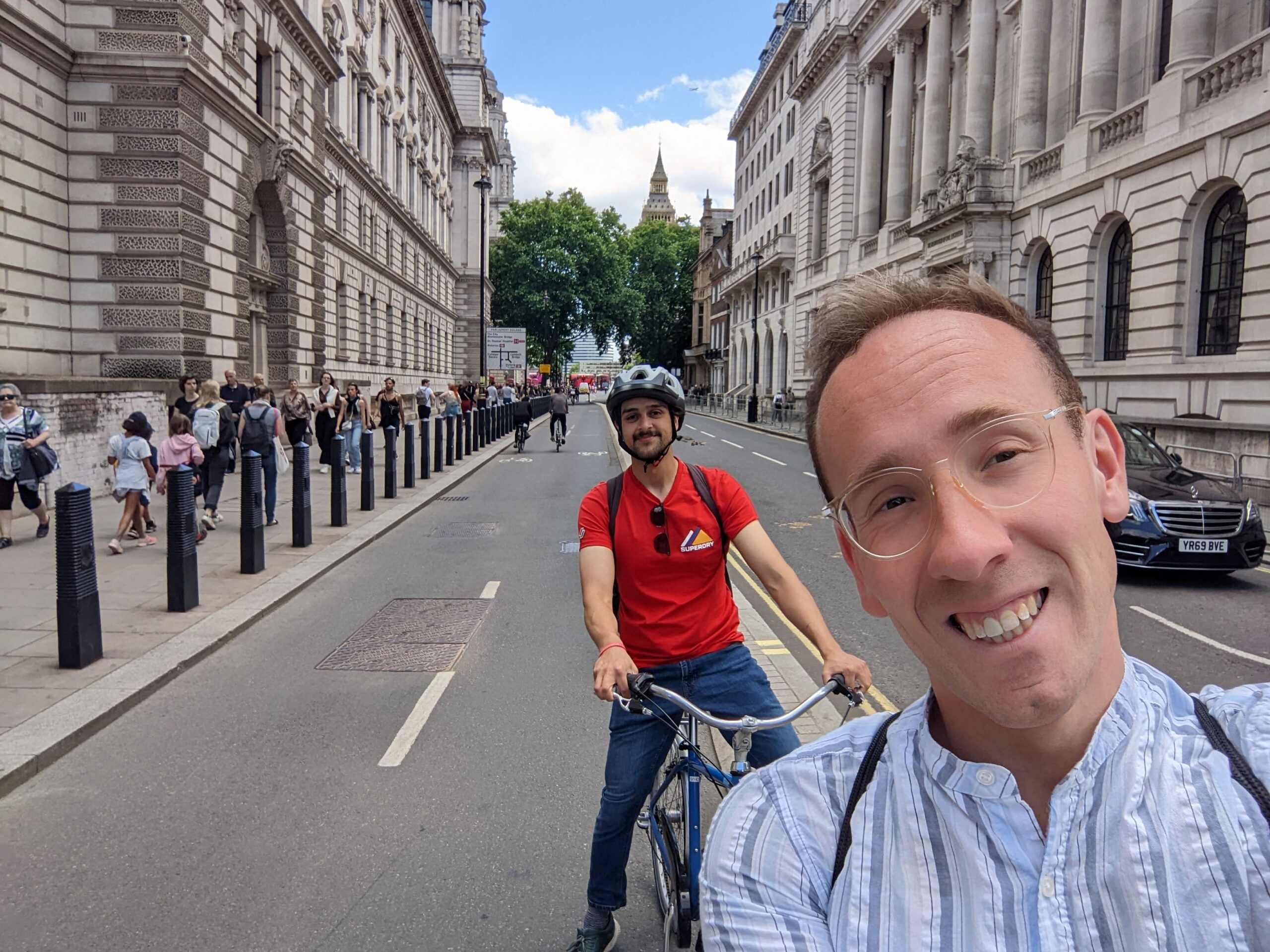 I was tempted to start from Wellington Arch, a recently announced new start to replace the Hyde Park one which had to be suspended as the council are still doing something Jubilee related in there.  At the time we arrived, we could not see masses gathered so we cycled all along the cycleway to Tower Hill.  There were plenty of people here.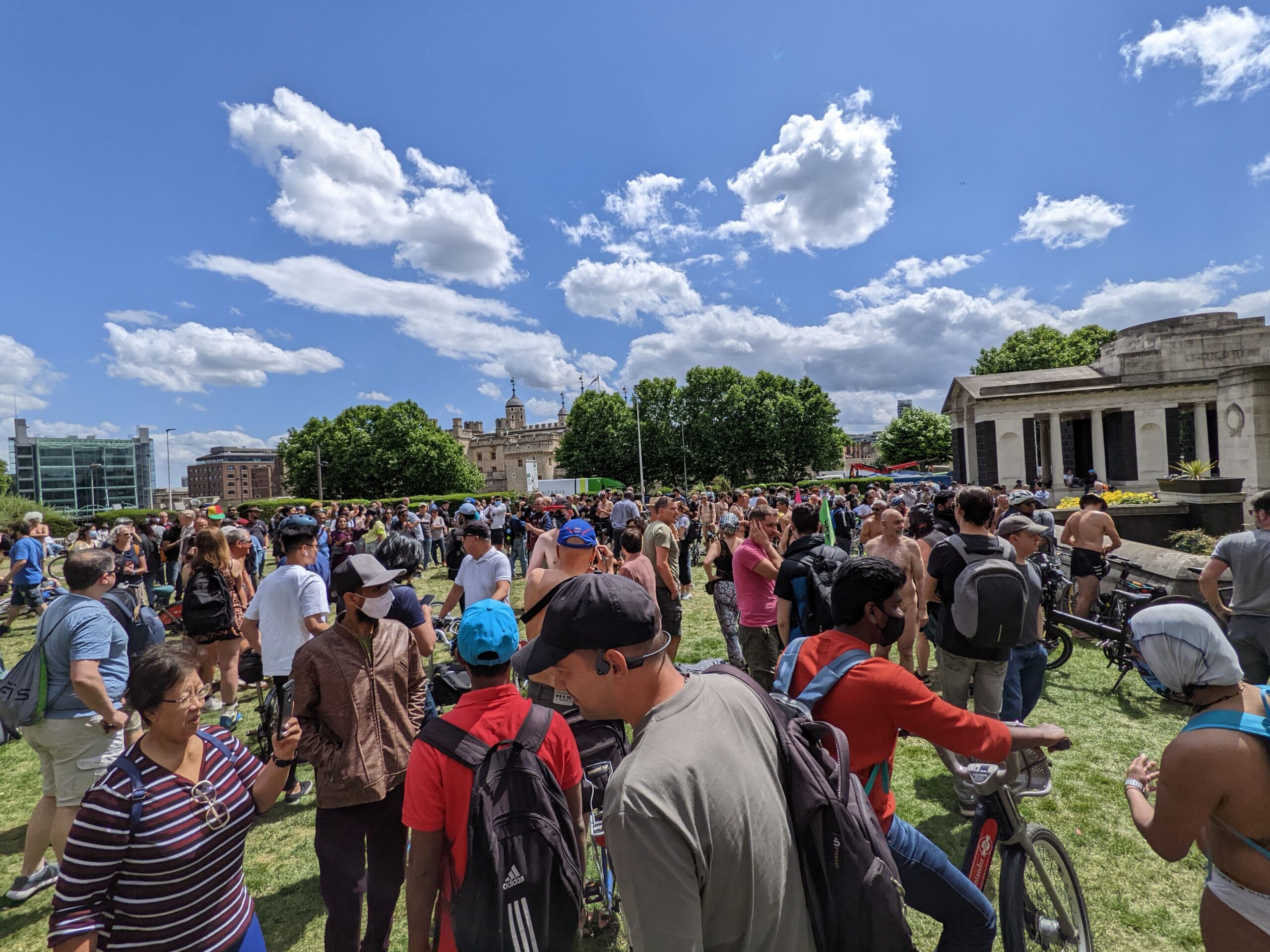 We had arrived in plenty of time.  It was this strange limbo between some people stripping completely off and some staying covered and in swathes came photographers lurking around in between.  I decided not to completely strip until towards the time we were to leave.  Soon after Amar and I arrived we were joined by Chris.  I had known Chris for a few years on Twitter but had never met him in person before.  We know each other through the aforementioned Tom.  I cannot remember the exact details on how we met but since we often message on Twitter and have had a few telephone calls.  It was really nice putting a face to a name and properly meeting him.  It was Chris' first naked ride and I think he was a bit hesitant.  I think though, once we got moving, it felt normal!
Here are some photos of the ride: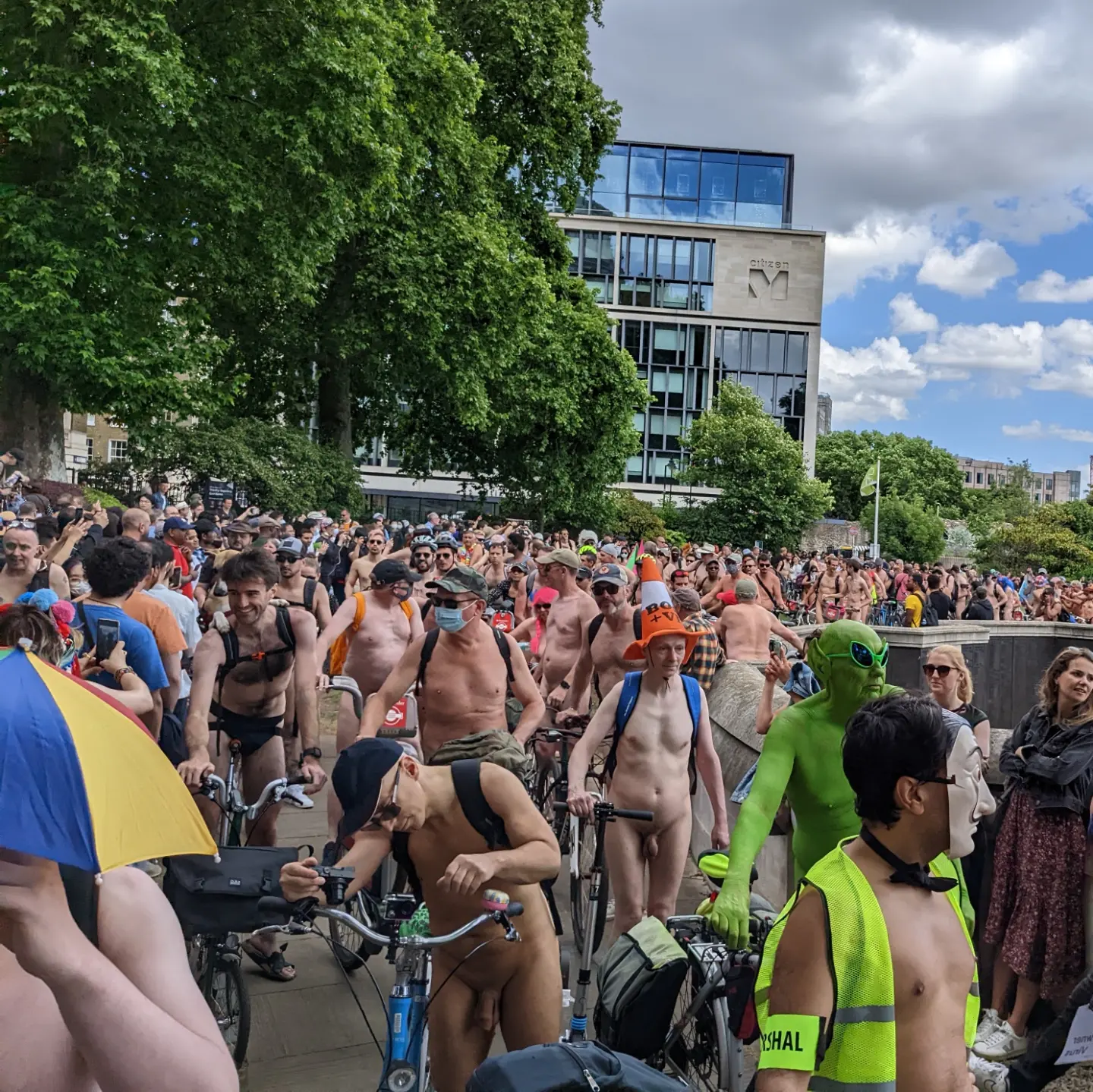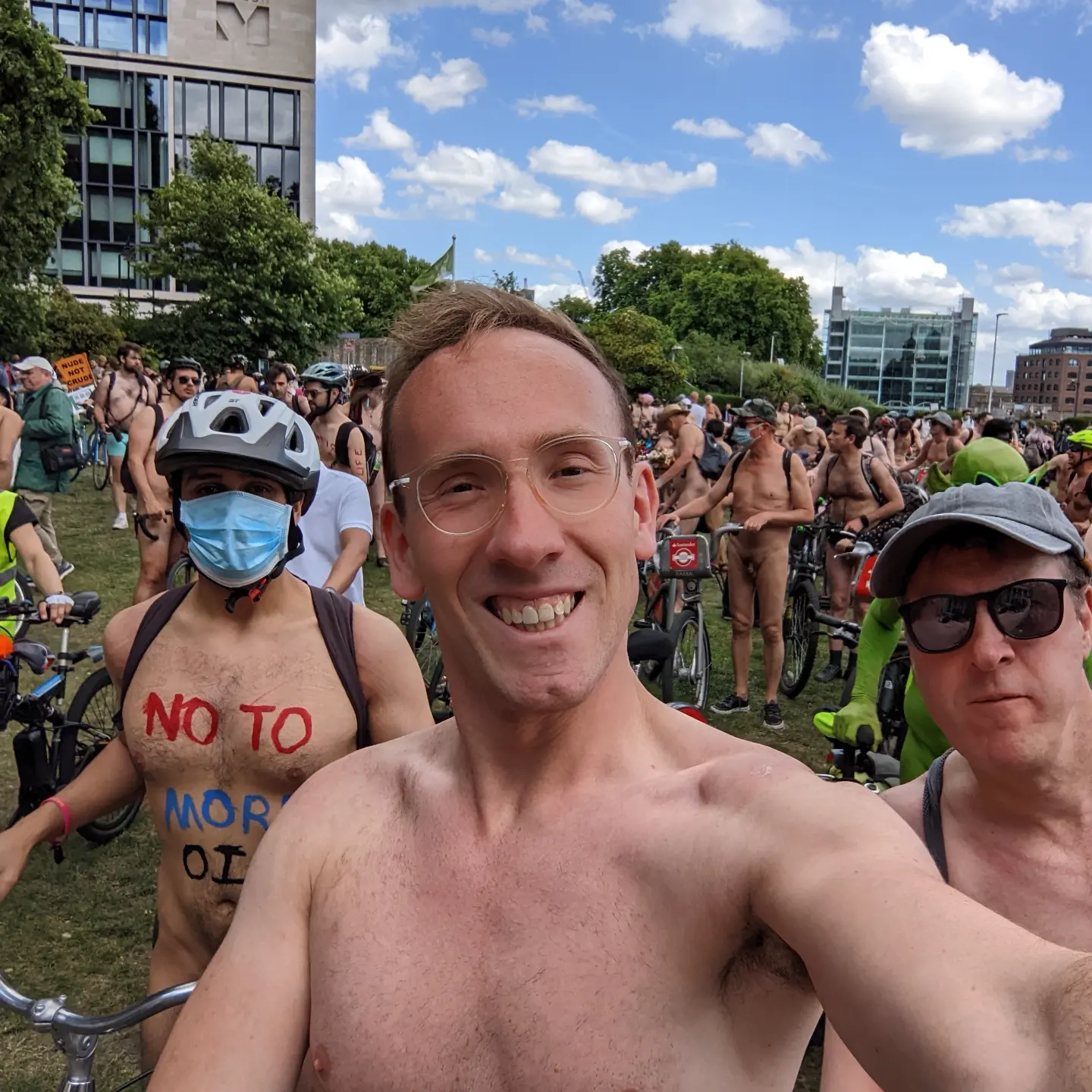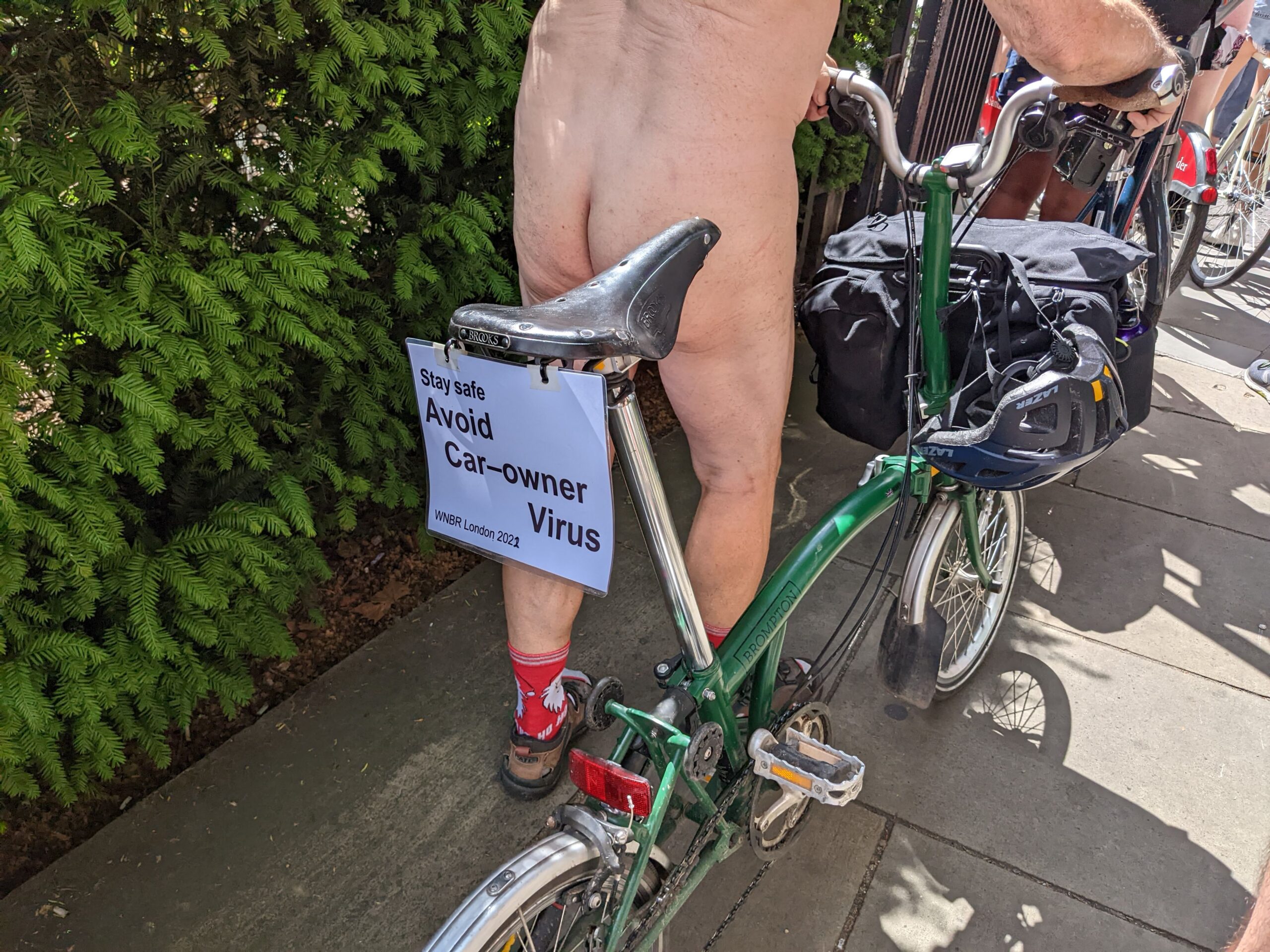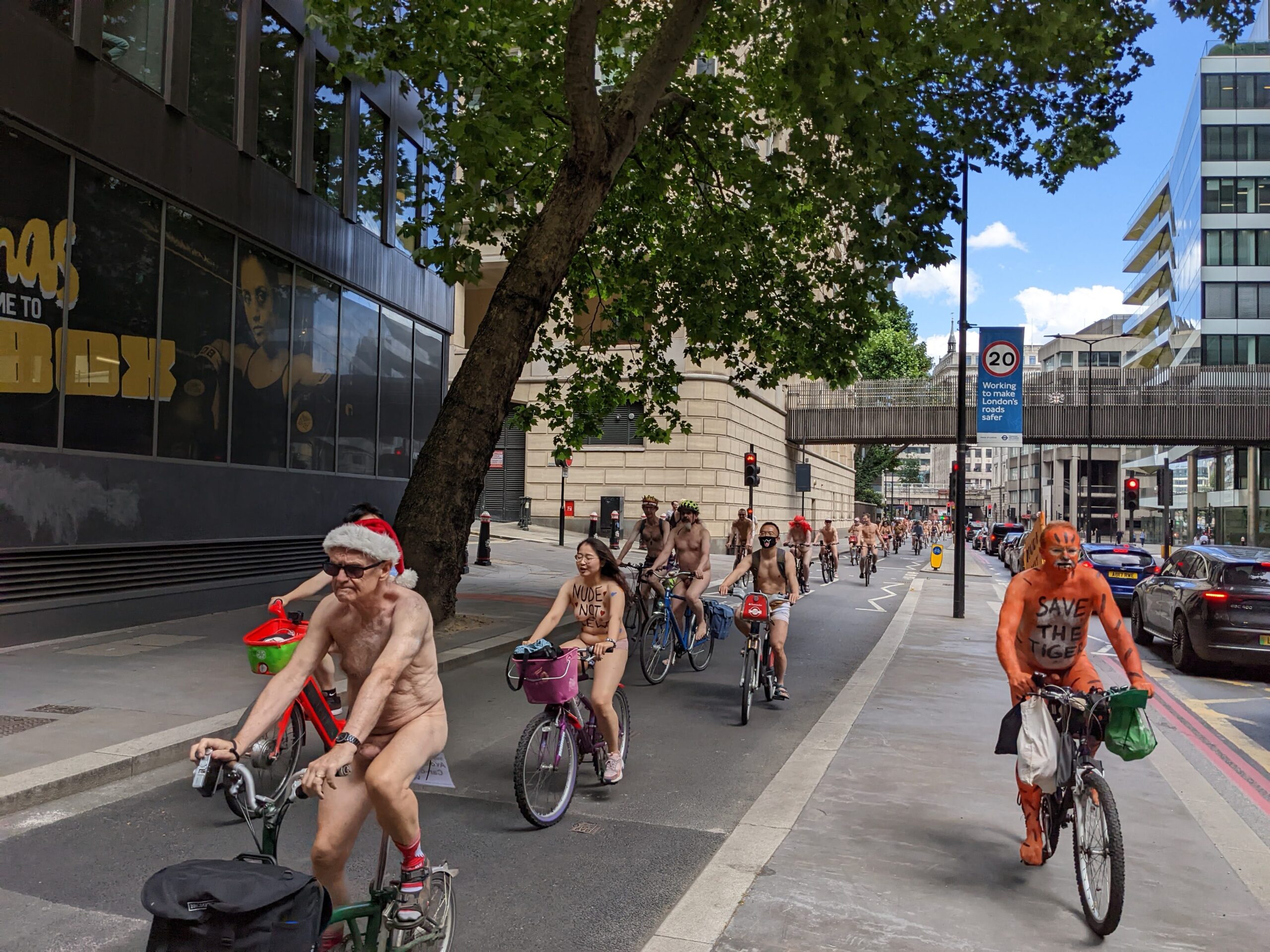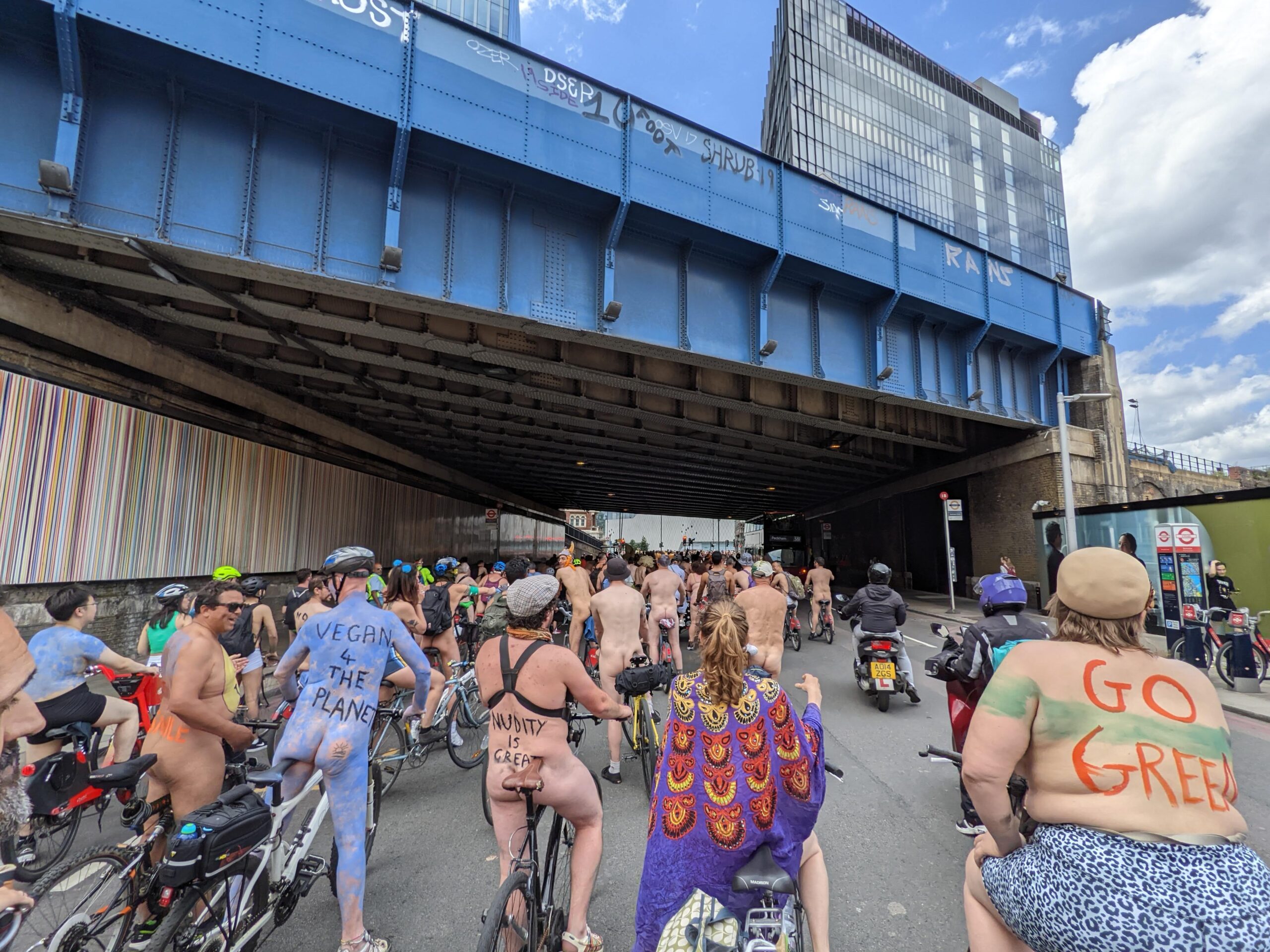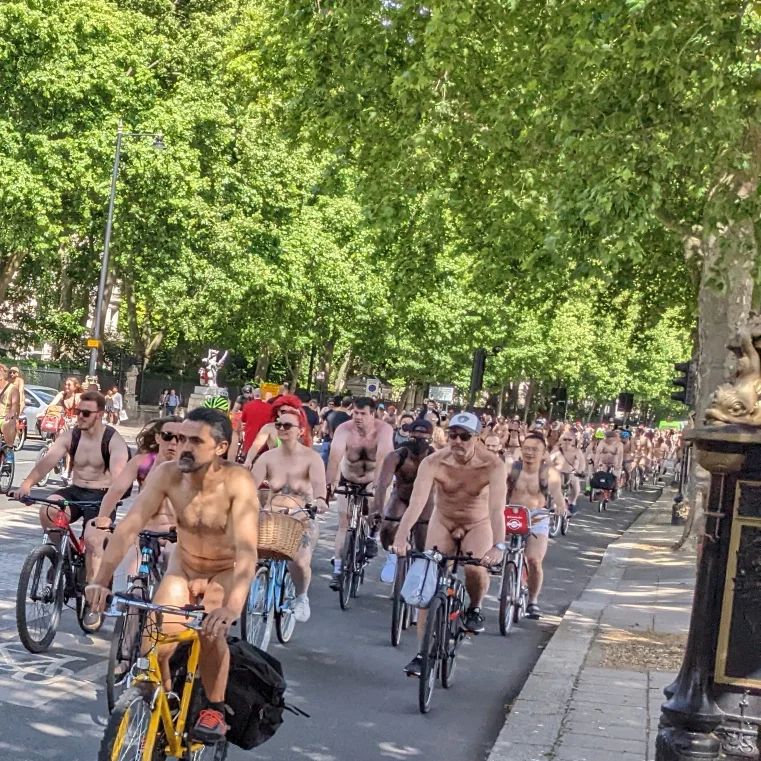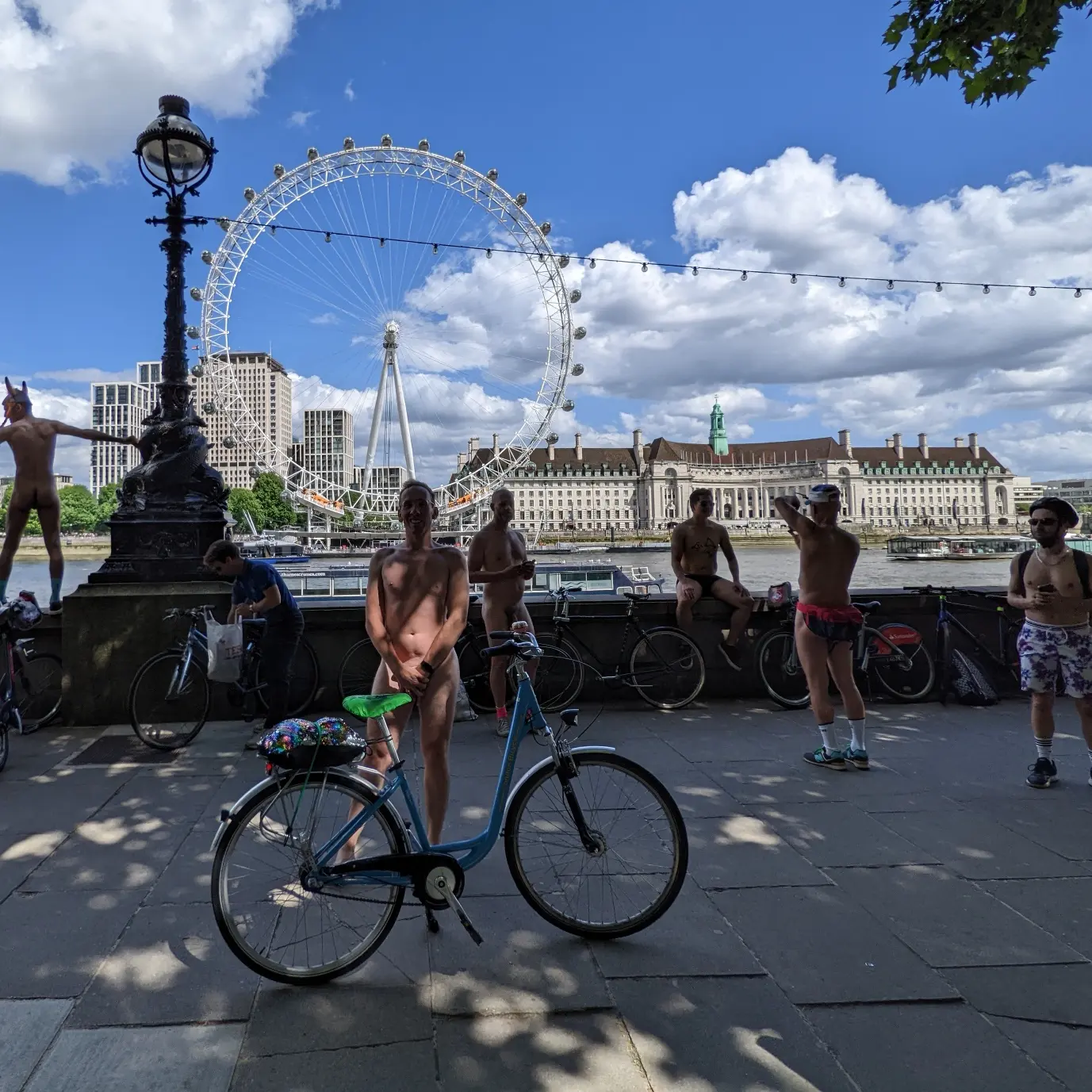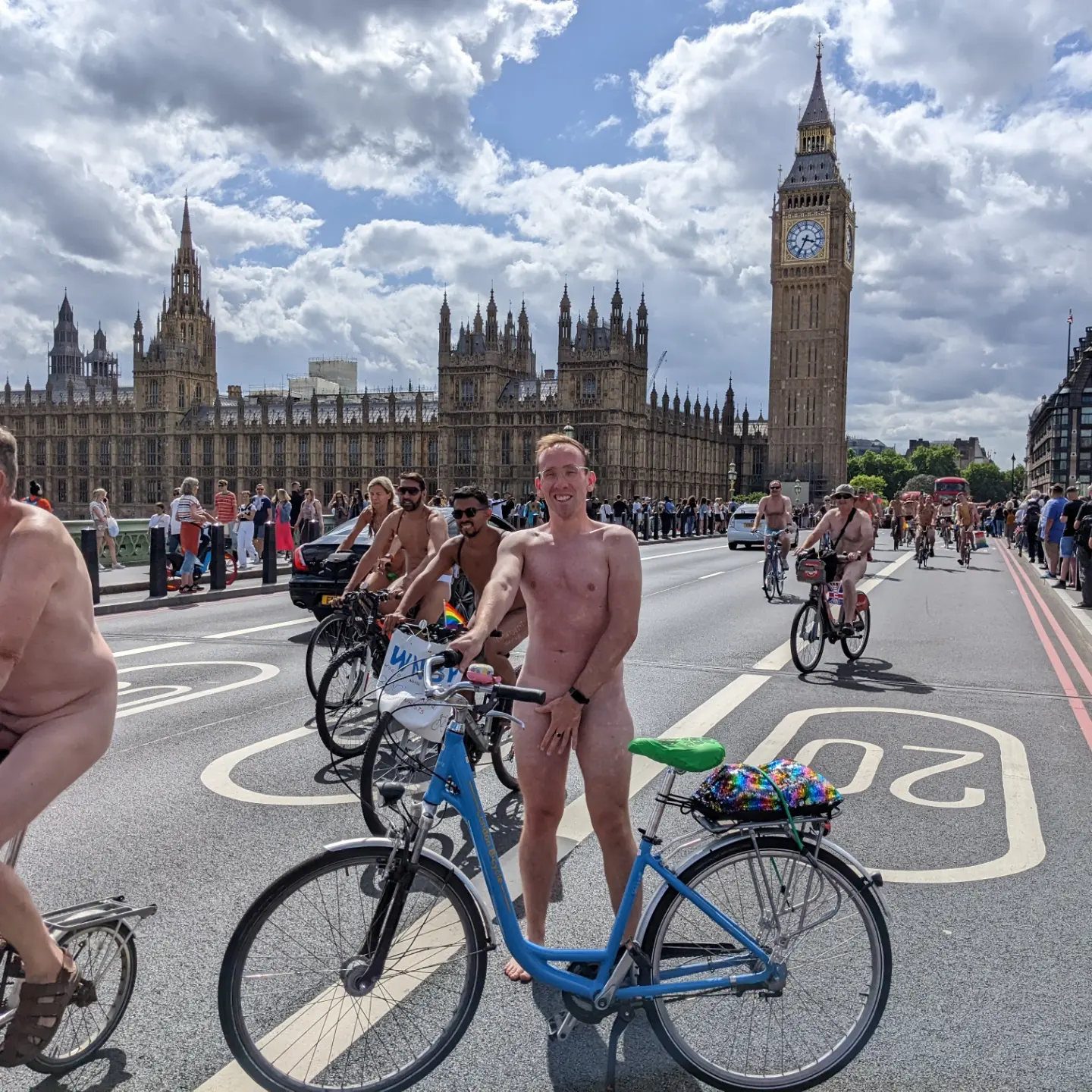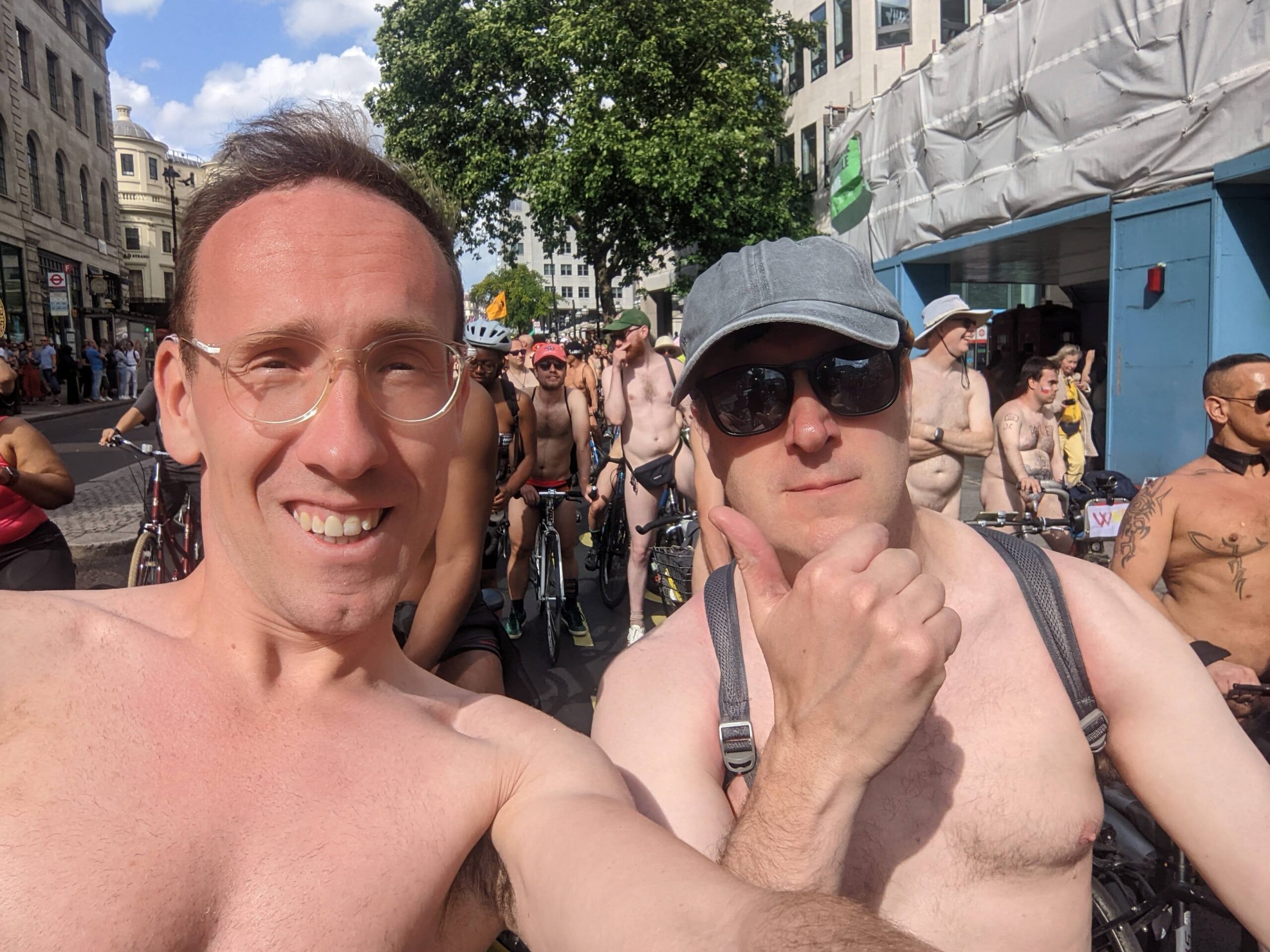 At the end of the ride, I saw a cute pug wearing a dress and had to get a photo:
Amar and Chris had trains to catch at Euston and mine was from St. Pancras so I suggested we eat somewhere close by so we could make a quick dash.  I didn't realise how hungry I was; it was a much needed energy boost.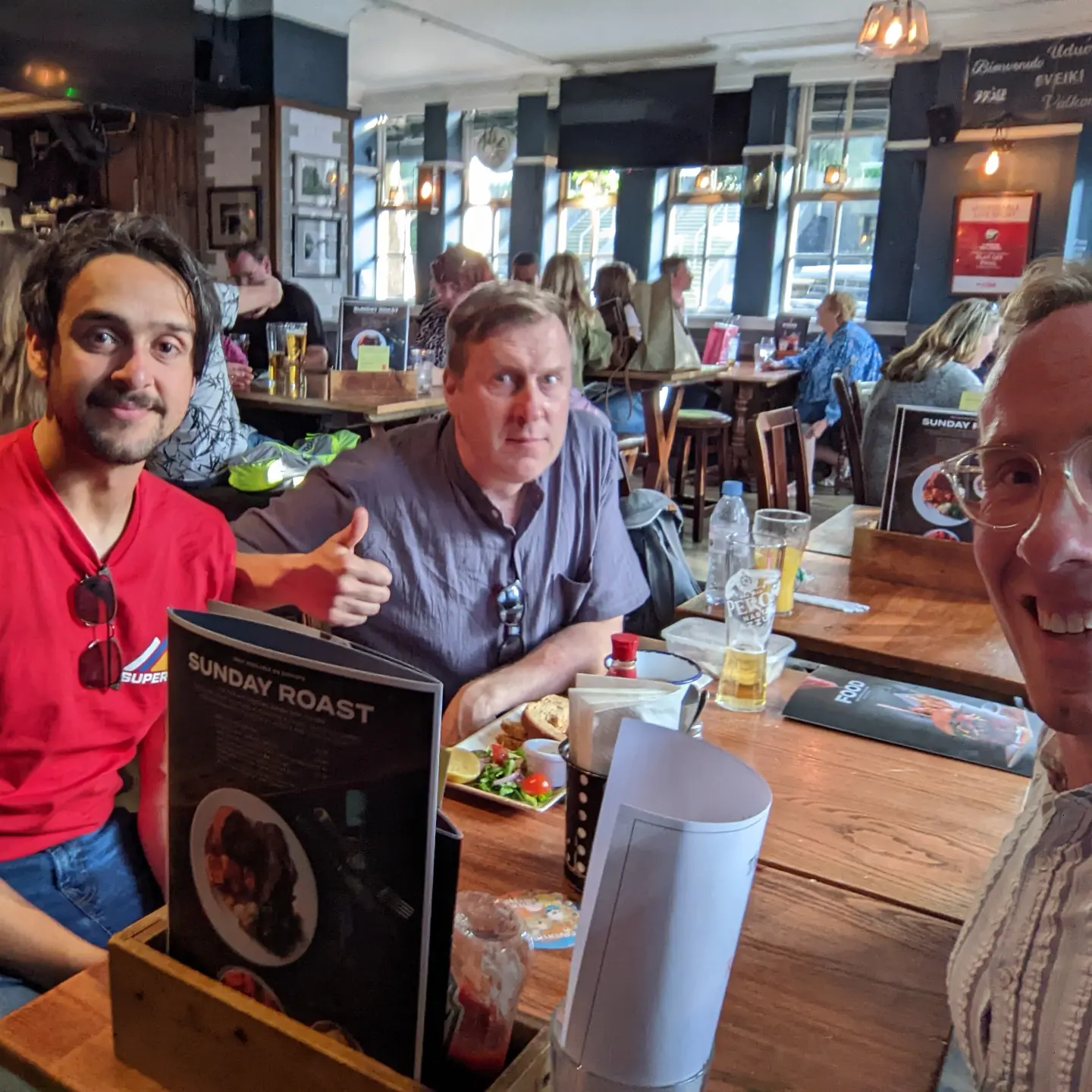 I am really glad I took part.  It was such a spectacle and something that people love to see.  It's so different.  The reasons behind the ride I wholeheartedly get behind.  Deeming this as a protest, it calls for society's end to car culture and , an end to the global reliance on oil, calls for more protection for cyclists, highlights their fraigility (I'm just as fragile with my clothes on!) and to celebrate body freedom.   I am, possibly illustrated by the fact I do not bat at eyelid at taking part, am not conscious of my body but even for me it serves as a great reminder of how different we all are.
Speak soon,
Samuel